October 7, 2011
Pierre Herme Ganache Chocolates Selection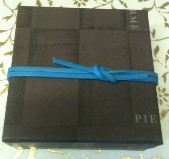 The Pierre Herme shop is posh.  It is in a posh part of town with posh clientele and a posh interior design. It was so posh that had I been dressed in my usual jeans and t-shirt I would have felt distinctly out of place there.
In the front cabinet, as you entered the shop with the sun leading the way into the colourfully bright interior, were the range of ganaches.  Displayed on small plates with an array of flavours to choose from, each ganache had been made with a different themed centre.  From the smoky Laphroaig to the smooth chuao, the chocolates were designed to delight the tastebuds.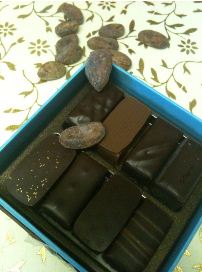 The ganaches are what I have come to associate with French chocolates – they have a thin outer chocolate shell, delicious ganache interior and are, in this case, rectangular in shape.  This gives a nice two-bite or single mouthful shape.  The flavouring of the ganache is distinct but not aggressive, with the chocolate being (in most cases) a compliment to the flavour rather than simply the carrier for the flavour.
The selection box I got regrettably did not have a card in it so I had to refer to my larger cheat-sheet to identify the flavours I had.  I think that you are safe with any selection though as the flasvours are not strong enough to be overwhelming and thus possibly offensive to some – they are balanced and delightfully French.
The Laphroaig's smoky flavour is strong and distinct without being overwhelming.  It has a strong flavour though and it was a bit of a surprise when I tried it. It is easy to see when you eat it though that the smoky flavour is a distinct note and not due to over roasting or synthetic flavouring.
I tried an Azur chocolate which was also typical of what I associate with the French style – the Yuzu was understated creating a delightful citrus ganache without it being too powerful.  Lovers of Yuzu may wish for more but this is an immensely edible chocolate (and I could have easily eaten more!)
I also had a distinctly chocolaty one with not added flavours so the chocolate could stand on its own.  Really dangerous because you could buy a box and polish them all off without realising they are just so edible.
I checked the menu but I'm not sure if I had a chuao but how could I ever love another after Soma?
All in all these were what I have come to expect of quality French ganaches. Smooth ganache, small and brilliantly formed, easily edible, inoffensive and just the perfect gift for someone else or yourself.