October 15, 2014
Pralus Pyramide Biologique Reviewed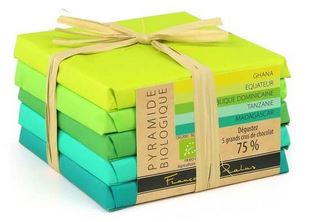 François Pralus is a Master Chocolatier and his approach is exceptional because Pralus is one of the few companies in France to make their own chocolate from the bean to the bar. Today, there are nearly 100 tons of chocolate manufactured and sold each year through the Pralus company – all of it made directly from the bean.
François Pralus works with dried beans of the greatest vintages of cocoa (according to the website but vintage relates more to origin than year though year and harvest does have an effect) he receives from around the world, including South America, Africa and the Indian Ocean. Passionate about Madagascar, François Pralus created his own cocoa plantation from a primary forest in Madagascar.  He says "Historically, I wanted to own my own plantation. During two years, I have traveled in search of the perfect pitch. In 2003, I fell in love with the island of Nosy Be, dubbed Island Perfume, northwest of Madagascar in the middle of ylang-ylang, vetiver of, peppers and vanilla … Since then, about fifty people working on the plantation. They first partially cleared forests to create a nursery and planted 25,000 trees of a quality cocoa based on a variety of Criollo. The plantation is 17 hectares. "
In the interest of preserving the environment and the quality of its cocoa, the plantation is committed to sustainable development and benefit from the Bio Ecocert certification. Created in 1991, Ecocert is an independent company specializing in the certification of products from organic farming. But what is the bio certified chocolate actually like? I was gifted a Pyramid to see.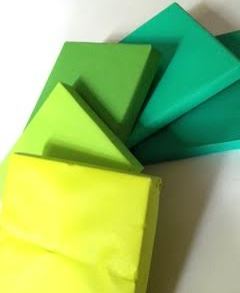 Ghana – this chocolate square is very chocolaty and slightly spicy (as in the flavour of spices – not heat from a chilli). This chocolate is unsurprisingly (given the origin)not too complex but beautifully chocolaty.
Ecuador – Oh this one is very strong on the nose. It has a complex flavour with some yellow fruits leading into a bit of dried fig like a Fig Newton. There is a bit of cheek tingle acidity. Probably my favourite of the group but odd to get yellow fruit from a Ecuadorian chocolate.
Dominican Republic – This chocolate has a smooth melt. There is a delightful fruitiness, a slight acidity, a very deep flavour, and a very long finish. Much more complex than I would have expected given other chocolate from this region so a delightful surprise!
Tanzania – woody spicy and a bit flat. Heavy wood on the nose with a bit of leather but it isn't a great chocolate to me. We all have our preferred flavours and this just isn't mine. Possible to pair with whisky.
Madagascar – To me the one I was most looking forward to seems to be a heavy roast – I might be getting a slight smoke flavour? Acidity and fruit struggling to get through.
Overall an interesting opportunity to try different origins. Why not buy yours from Fortnum's and have friends over to try all the different origins. All the different flavours are achieved without adding any flavourings – just all natural to the bean. It's a great way to discover origin chocolate and more fun with friends 😉