October 14, 2014
Why Eric Lanlard Forces Everyone – Even the Roux Brothers – to Change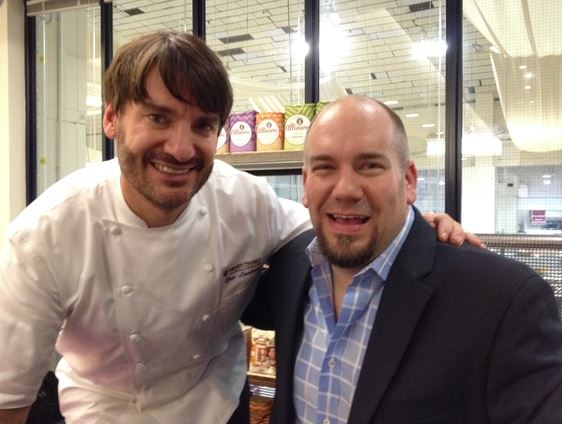 Eric Lanlard is one of the prominent bakers on the London baking scene with five cookbooks and the shop "Cake Boy" selling baked goods in London's Battersea Reach. It seems that Eric, however, has a particular penchant for something brown and thick with a rather bitter flavour. He has forced this brown concoction on everyone he has worked for – even the Roux brothers where he displaced a French rival in the process. What has gotten Eric so passionate that he will risk the wrath of the Roux brothers themselves among others he has forced to his way of working? Vanilla.
The folk at Nielsen-Massey make the world's best vanilla in Eric's opinion. He has worked with their vanilla since he learned how to bake at school and has continued forcing everyone he encounters to work with it no matter where he has worked. It speaks not only to the quality of the ingredient but the passion of Eric himself for it that he has brought it to every kitchen he has been a part of.
Vanilla isn't something many people think much about. While I have always used vanilla extract, I have never given it much thought. It was something that was always a part of every cake, cookie, cupcake, brownie and loaf but not something I ever thought was all that important. Vanilla was just something I included because the cookbook told me to. Eric Lanlard and Matt Nielsen of the Nielsen-Massey family changed my mind utterly. Vanilla is, it turns out, a vital ingredient in making cakes taste better, drinks smoother and food punchier.
Vanilla extract (which is completely different from vanilla essence), is a solution containing the flavour compound vanillin – the flavour and aroma of the vanilla bean. The vanilla bean is actually a fruit from the vanilla orchid grown in Madagascar, Mexico and the West Indies (among other places). Madagascar and Indonesia lead the world in the production of vanilla possibly because of the required hand pollination of the vanilla orchid. Hand pollination and the sensitivity of the vine to over-production makes vanilla the second most expensive spice after saffron but it is worth it.
As a complimentary flavour, vanilla shines most brightly in non-baked items. When used in mousse for example, the use of a real vanilla will shine and create the perfect balancing compliment. Eric recommends a vanilla martini recipe or why not try using real vanilla extract in the below cocktail recipe:
60mL Cognac
3 tsp Triple Sec
45mL Vodka
splash Pineapple Juice
lemonade/Sprite
Sugar
1 tsp Vanilla Extract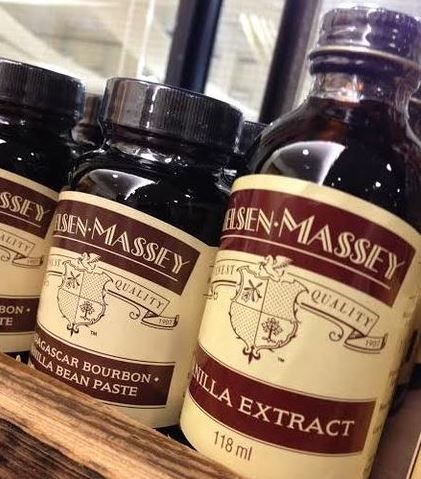 Nielsen-Massey was a major presence at the Cake and Bake Show which was held in Manchester and in London in 2014. In Manchester there was a "vanilla amnesty" where people bakers could swap whatever they had in the cupboard for some genuine Nielsen-Massey vanilla. It was a huge success and is one of the ways this company is using to change bakers minds about the importance of quality vanilla. The UK market is so important to Nielsen-Massey, particularly home cooks, that Matt Nielsen, one of the third generation Nielsen's currently running Nielsen-Massey, came to work the show on his stand and talk to UK consumers about vanilla.
Matt was keen to point out that his company is passionate about quality and that they have full traceability and invest in the countries they source vanilla from through charities. They have recently partnered with Silver Spoon in the UK who, as an iconic British brand, they felt knew their UK market best. With a very strong business to business presence – especially with Eric forcibly converting everyone – they really wanted better brand awareness among consumers. They want to help teach people how to bake with true vanilla rather than vanilla essence which I have learned is a by-product of papermaking.
Education is at the heart of what Nielsen-Massey wants to bring to every market they are in, but especially the UK market. They feel their passion and quality will speak for itself once people have the opportunity to try it. Of course, it feeds sales but with other brands easily available on the UK market and at the show, education helps all brands, and vanilla, overall gain the recognition it deserves as a precious spice worthy of being used in pure form in food preparation.
With recipes like the one above, Eric and Nielsen-Massey hope to educate the UK market about the importance of using a genuine product – not only Nielsen Massey. While I am sure Eric will continue to be a brand ambassador for Nielsen-Massey, with such brands as Steenbergs, Ndali, LittlePod and others on the market, the education Nielsen-Massey is pushing will benefit all genuine vanilla extract producers.