March 21, 2012
Pierre Marcolini Limited Edition Single Origin Chuao Chocolate Bar Reviewed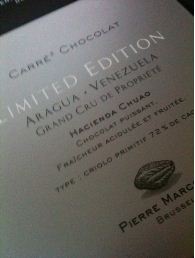 Pierre Marcolini is the only chocolatier in Belgium and one of the very few in Europe to make his own chocolate, bringing out the best flavours for all his creations in bars or ganaches. He also is able to buy entire crops from a single estate and I understand that it took him over two years to negotiate the shipment of beans from Cuba. While I know Franck Morin has also worked with similar origin beans, Pierre was the one I tried first and the one that set the bar for Cuban chocolate for me.
These limited edition bars also include actual chuao that is actually from Chuao and not just from an area around that region, harvested at some random time of the year. As someone who eats a lot of chocolate, it gets a bit same-y at times. I look forward to trying new bars or ganaches only to be disappointed. Well, I'm pleased to say that when I visited Pierre Marcolini I was able to experiment and taste and everything was different and unique. From the beans in the storage house through every step of production, Pierre Marcolini takes care of the chocolate he makes. The woman who sources the beans travels to every country to negotiate with the owners of the estates directly.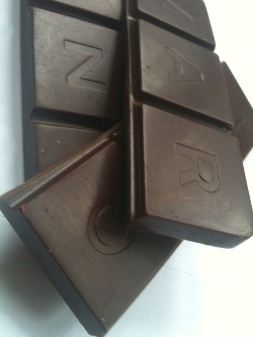 Aragua Venezuela – Hacienda Chuao – 72% cocoa chocolate bar – The Chuao region is hemmed in by mountains and can be reached only by boat which reduces contact with people and insects from other areas. The beans from the Chuao hacienda have not changed for decades and keep their original characteristics. Probably one of the best Criollo varieties in the world. Scarcely 20 tons of cocoa are available each year.
Oh dear goodness me if not for the slightly higher roast temperature this would be my new favourite. The slightly higher roast temperature means the red fruits are overwhelmed slightly by a lightly almost smoky flavour of the higher roasting temperature. This is a smoothly melting bit of joy with the delightful blessing of dried raisins and the delicious acidity kicking in at the end most strongly as the faint floral flavour kicks through. Oh so close to my favourite Soma this is a rival and the second best Chuao I have ever tried!
If you can't get Soma chuao then you're going to want to get some of this. While the roasting temperature is clearly higher, there is still a delicious sense of dried red fruits. I'm so glad I have 2 of these bars but you can pop to the online shop and buy yourself an even 4!