March 21, 2012
Booja Booja Chocolate Hazelnut Crunch Truffles Easter Egg Review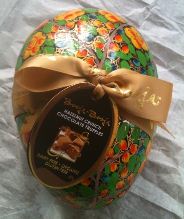 One of the things I love to do is to review ethical chocolate. Whether it is Askinosie working directly with the farmers, cutting out the middle man, Pierre Marcolini working hard to overcome embargos and buy cocoa beans from farms previously closed to international trade, Divine where farmers came together and created a co-op to sell chocolate direct or Hotel Chocolat planting and grafting cocoa to breed life into old cocoa again, I love the trend towards ethical chocolate.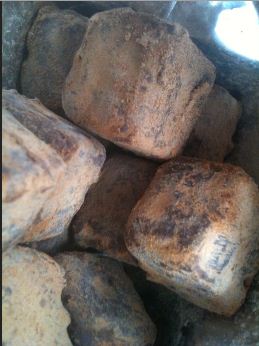 One of the chocolate makers out there working to give back to the community is Booja Booja. They not only make dairy free, vegan, organic, and gluten free chocolates, they also support "Persian Dowry" which endeavours to be a sustainable community based organisation assuming responsibility for caring for the artists and their families. No machinery and minimal energy is used in making the beautiful eggs which house the 12 hazelnut truffles. The designs are traditional and are uniquely beautiful.
Interestingly these truffles are quite quick to melt and the crunchy hazelnut pieces are still quite crunchy and have not gone soft. The chocolate shell is quite thin so it is easy to break through and the inside with the coconut oil is quite quick to melt when you bite it.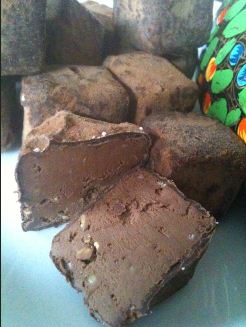 I've been a fan of these kind of added-oil very melty chocolate for a long time. I love the way as you bite into one they immediately start to melt. In fact, as you hold it to bite it, it starts to melt. I think these are delicious. They have a good cocoa flavour without being bitter.  There is no particular single chocolate note but there wouldn't be with the hazelnut gianduja centre. I'm actually liking the flavour of hazelnuts and the crunchy bits. I'm enjoying the melting loveliness of the centre of the chocolates.
All in all, these truffles were delicious and with a full 12 in these large eggs for around £24.99 they are going to be a cherished Easter gift and one that lasts a long time beyond the day itself. If you'd like to buy yourself one of these great eggs or any in the range, simply pop over to their List of Stockists and remember to call ahead!