March 20, 2012
Pierre Marcolini Limited Edition Single Origin Alto Piura Peru Chocolate Bar Reviewed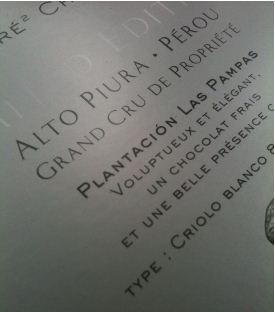 Alto Piura Peru – Plantacion Las Pampas – 85% cocoa chocolate bar
I'm always looking for new places to get chocolate from and Peru was always a rare one for me. The beans come from Las Pampas, a small plantation in the mountainous Alto Piura region of Peru. With only a few hectares, annual production is tiny so this exceptional bean is hard to come by. It is a rare and very distinctive cocoa. It is also a Criollo Blanco chocolate, making this extremely rare chocolate. I think the 85% is totally justified.
Apparently the white Criollo cocoa is recognized for its exquisite flavour and aroma. The conditions in this area of Peru are absolutely perfect for growing this extremely rare type of bean. This "Food of the Gods" is also known as the "White Gold Piura". Alto Piura has had the white cacao for centuries without understanding how unique it was and now the wonderful woman who sources beans for Pierre Marcolini has uncovered them and brought them to the market.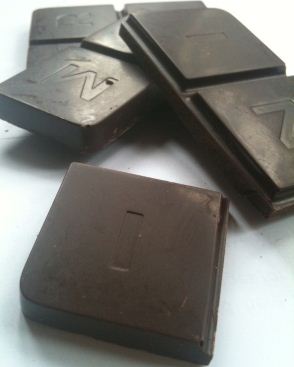 Interestingly, the Piura Region, was born by virtue of the Constitution of Peru, 1993 so it is a rather young region of the world. The Piura Region is located in the extreme north-western Peruvian territory, south of the equator and the western sector of the western flank of the Andes. Of course it is within the 20 degrees of the equator that chocolate grows in. Chocolate production is an extremely tiny part of the agricultural mix of the area so to get chocolate from this area, let alone rare white criollo beans, is awesome.
The initial dried raisins and acidity very quickly leads into an intense chocolate flavour. This is a strongly distinct chocolate, with an unmistakable flavour. Dried red fruits and purple fruits flirt with your taste buds but the strong, thick chocolate scent and flavour really stand out. There is the hint of honey though it is elusive as it floats past and has a slight affair with the intense chocolate of this 85% bar but the dominant flavour is chocolate through and through. The chocolate finishes quickly and the acidity quickly fades, leaving only the memory of the lovely piece of Peru behind.
This is a very intense bar at 85% but really is delightful and you won't really feel the 85% intensity. You really need to try this Peruvian chocolate for yourself though. It is different and intense and amazing. Just order yourself some and if you like intense chocolate flavours with just fleetingly soft touches of other flavours, buy 4 chocolate bars and thank me later 😉