March 20, 2012
Carluccio's Colombina Traditional Easter Cake Review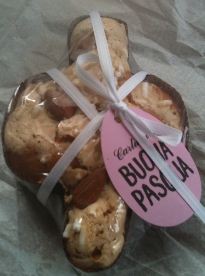 I know that you're thinking. Trust me, I know exactly what you're probably thinking right now.  Thought it too. Now, before you think the worst of me and my mind that sits firmly in the gutter as well, let me explain first that I didn't make this cake 😉 This is actually a traditional shape for a traditional Easter cake.
According to the Carluccio's website, the Colombina is a small traditional Italian Easter cake, made with candied peels, topped with almonds and baked in a dove shaped mould.  Ya… DOVE shaped. You read that correctly? DOVE – it's a BIRD not a euphemism.  The Colomba dates back to the time of the Crusades.  It is a sweet bread like panettone with candied orange peel (minus the raisins) and topped with sugared and sliced almonds, shaped like a dove. The Colombina cake takes on this form precisely because la colomba in Italian means dove. The dove is a Christian symbol representing the Holy Spirit, announcing the reconciliation between God and man or, more simply, heralding the arrival of Spring.
Now that I've wrenched your mind out of the gutter, it's time to actually talk about the mini colomba cake I was sent by the lovely folk at Carliccio's.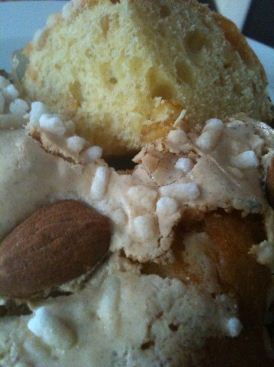 So the cake is lovely. I'm the first to say I don't like fruit in my bread. I hate it in fact to I took a piece of the bread to taste it and thought "hey, this is actually not too bad" and then I found myself cutting another with a whole almond and then I was eating more and husband had some and I had to admit that wow… it is nice. I am still not a fan of fruit in my bread or cake but this – this I'd eat, and eat it I did. I liked the thick caked sugar on the top making the slightly dry (as it should be) panettone-like interior a bit sweeter, I liked the whole almonds on the top adding a bit of crunch, I liked the actual cake itself and if it came with chocolate instead of orange, I'd buy them by the KILO!