March 24, 2015
Pierre Marcolini Goes Artsy Spotty In 2015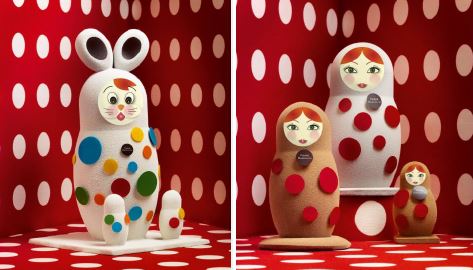 When I visited the Pierre Marcolini factory to see the mounds of beans, the massive roaster, the giant winnower, and the 2 huge refiners in the other room with the conch, I was told by various people that what I was about to see was a lie. Well people, it wasn't as I smelt the same notes in the bean shed as I did in the finished ganache so I believe in Pierre Marcolini's bean to ganache story.
But the stories persist and I'm here again to say that when I was there I saw no evidence of any additional coverture being added to the chocolate and indeed it was something Pierre himself was extremely proud of.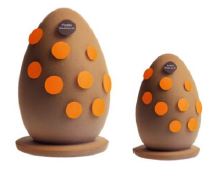 Fast forward to today and there have been a number of years and a new owner that has come into the picture. My contact within Marcolini has moved to Columbia and the PR for Marcolini in the UK isn't situated in the factory. They also haven't sent me anything to taste in years so I have been buying my own this year to taste-yesy the chocolate and see what it is like. I must admit that the flavour note I smelt in the ganache in the Sablon is no longer there but that doesn't mean anything as the chocolate has had to cross the channel.
So in the absence of any Emmanuel to arrange an Easter sample for me (and really, it is just a different shape but is still the same yummy chocolates inside), I've grabbed the press release which says "This year Easter is getting the Maison Pierre Marcolini treatment with an injection of all things feminine, pop artsy and playful. Eggs, rabbits, hens and other Russian Easter dolls will be lining up to make an appearance, each bedecked with colourful sweets over their finery. An iconic must-have that will delight kids and grown-ups alike!"
Now, part of the fun of the Pierre Marcolini Easter range is that while they look like thin-shelled artisan hollow eggs (which they are), they are also filled to the brim with chocolates inside! Some have eggs, some praline shapes but all are more than they seem. The very large pieces have drawers of chocolate eggs or shapes or both beneath them.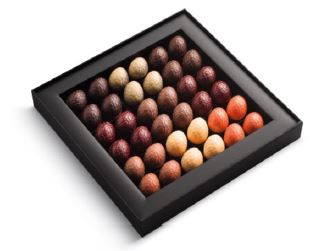 I do have to admit, I'm sad to see that the Grand Crus eggs seem to be mixed in with the pralines this year. I'm not big on pralines and always loved that you could get origin ganache eggs on their own but I assume the public voted with their wallets and the grand crus didn't sell as well which is a shame as this year again Pierre Marcolini has origin grand cru mini eggs in the drawers you can buy in store or online. I'm clearly biased though 😉
All in all the range is fun with Russian Dolls filled (even the smallest) with chocolate treats, chickens and rabbits – all very traditionally Easter. I hope that they will have some new origin bars soon as it would be lovely to taste how they have once again done something special with origin chocolate.