March 22, 2012
Pierre Marcolini Single Origin Bars from Brazil, Madagascar & Los Rios Reviewed
Pierre Marcolini is the only bean to bar to ganache chocolatier that I know. Being a bean to bar to ganache chocolatier means that he has some awesome chocolate bars as well, all single origin, all roasted, cracked, winnowed, refined, conched, tempered and moulded on site in Brussels.
When I visited I was shown each step of the process and I smelt the chocolate from bean, through manufacture to the ganaches in the shop. It was amazing to head and have confirmed that Pierre Marcolini uses no couverture from anyone but what he makes himself. His facility is huge and makes a LOT of chocolate so it is no surprise. His ganaches are superb and I love them but his single origin bars… well, those tell a rich story, each different and unique and uniquely single origin.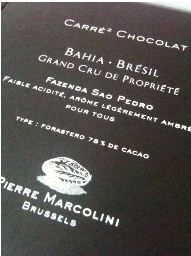 Bahia Brazil – Fazenda Sao Pedro – According to the website, Fazenza Sao Pedro is a plantation in the Bahia region on the Atlantic coast of Brazil. The estate is managed by Mr Joao Tavarez, a real specialist in fermenting and drying the beans after harvesting. He grows his beans in a very idealistic way, refusing any genetic engineering which would increase his yield.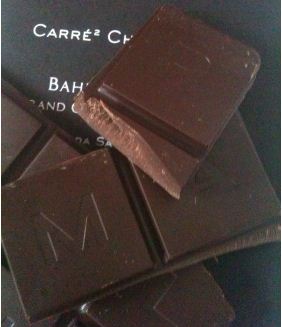 This bar was one of a few I was given by the lovely folks at Pierre Marcolini to try. Each one of them was unique and different, with each bean treated carefully.  With this bar, the flavours changed and evolved, making it complex and yet fun. Starting with something akin to figs, this has a deep purple fruit flavour with a slight bitterness but a delightful smooth melt. The chocolate melts too quickly but not unlike other high quality chocolates. The finish is clean with lingering fruits. The scent hits you as soon as you open the packet but it isn't too strong. It builds and as you put it in your mouth that flavour of fig and purple fruit comes strongly through. Absolutely delightful!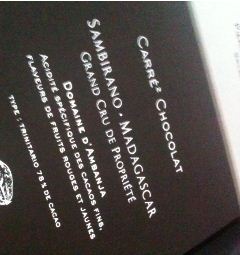 Madagascar Sambirano – Domaine d'Ambanja – It says on the website that the Ambanja is a plantation in the Sambirano region in the north-west of the island of Madagascar. The Trinitario bean is a cross of Forastero and Criollo. The island grows only fine cocoa, probably because the climate is particularly suited to the cocoa tree. At Aambanja, the beans are washed before they are dried which attenuates their acidity.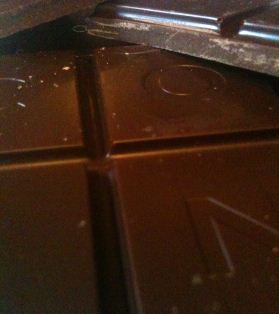 The Sambirano area of Madagascar is a very special region where they refer to cocoa as "green gold". Aroound 10% of what grown here is Criollo but it mixes in with the Trinitario so while nominally this bar is made with Trinitario beans, it could be part Criollo! Cocoa trees in this micro climate seem to absolutely thrive to give this chocolate a lovely flavour experience. With a slight acidity and absolutely delightful red and yellow fruits (a rare agreement with the published description, I know!), this is an amazing chocolate from one of my favourite regions. The fruits emerge at the beginning and linger all the way through to the finish while lingers long after the chocolate has melted. The scent of the fruits comes through from the moment you open the packet to long after the chocolate has melted. The yellow and red fruits are perfect and highlight one of my absolute favourite regions in the world. The flavour is not challenging though and these flavours will be experienced by anyone who tries it.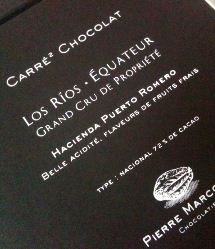 Los Rios Ecuador – Hacienda Puerto Romero – According to the website the Puerto Romero hacienda is plantation in the Los Rios region in central Ecuador which produces beans of exceptional quality. The owner, Pedro Martinetti, cultivates 20 hectares of fine cocoa trees and reserves his production exclusively for Marcolini. These beans are a special Nacional variety which is grown only in Ecuador. It is dark purple and gives a darker, more intense chocolate.  I'm a real fan of this region for the red berries you usually get out of the beans and the earthy flavour you can get with it. No all beans are like this though so as I tried this bar while I had a preconceived notion of what to expect, I wanted to see how Pierre treated it.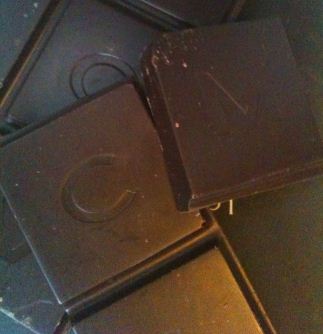 Wow… an almost smoky scent combined with dried red fruits meets your nose but as you put it in your mouth it is all floral with jasmine and orange blossom (I think). The floral notes are surprisingly strong as the chocolate first melts but then it gives way to a deep middle chocolate note but I just never get that dried fruit and smoke that the scent seemed to promise. The finish is surprisingly light after the deep chocolate flavour of the middle. It lingers for a ting and you get a sudden slight bitter note at the back of the tongue. This is a really surprising chocolate and one I think everyone will want to experience and likely will become a fast favourite of anyone looking for a light, delicious, edible dark chocolate.
If you'd like to order some of these for yourself you can order online from the new Pierre Marcolini e-Boutique. You will savour every single bite of this delicious single estate chocolate!