March 23, 2012
Carluccios Ovette di Cioccolato Milk Chocolate Easter Eggs Review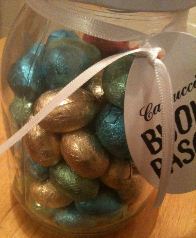 When I saw this jar of chocolate Easter eggs with its 600g of chocolate eggs, I thought they were just solid chocolate Easter eggs. There were a lot of them and as they were solid that was a lot of milk chocolate and that was perfectly fine for me. I mean, how beautiful is this jar of eggs? I was almost loathe to open it. I wanted to set it out on the table in a decorative manner with the eggs artfully spilling out as the centre piece of my Easter table.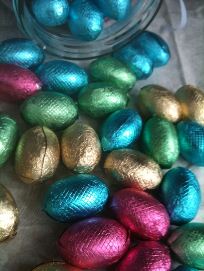 That is, if I had one. Which I won't because my friends will be at EasterCon where a lot of geeks are going to fall in love with these eggs.  The Italians have a saying which, when translated into English is roughly 'while Christmas is for families, Easter is for friends' and while I won't have the chance to hang with my chocolate friends and my geek friends will be in a hotel in Heathrow with a thousand other SciFi/Fantasy book & other media fans, I will be with some of my fandom friends and I'll geek out over anime, books and more. In fact if I'm lucky I'll get to do a chocolate tasting like I did at barcamp with a small group of folk.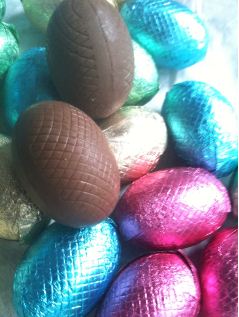 However back to these eggs and they just scream Easter to me. Brightly wrapped eggs in foil wrappers took me right back to Easter with my grandmother. I could imagine her bringing this jar out and the kids all crowding around it and reaching in as she bent down and them jumping and screaming. Outside preferably where all that sugar they'd been consuming all day could be run off.  Well, these would be an extra lovely treat because they'd be completely different than what they were expecting.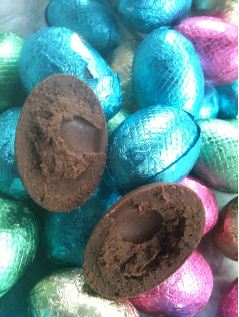 When I popped one in my mouth, I expected a hard milk chocolate egg and bit down accordingly. What I found was my egg had a SOFT centre! Yep – that's right – this isn't a solid milk chocolate egg but a milk chocolate shell with a soft cocoa filling. Mine had a slight coffee flavour I thought but there is no listing of coffee. That was probably just me but wow… This is something new for me. A small milk chocolate egg with a soft cocoa filling which isn't too sweet but still is sweeter than dark chocolate but without a totally oily taste. That just makes these extra special and in a great glass jar with 600g for £10.95 it isn't a bad deal.