December 2, 2013
Paul Wayne Gregory Christmas Chocolate Selections Reviewed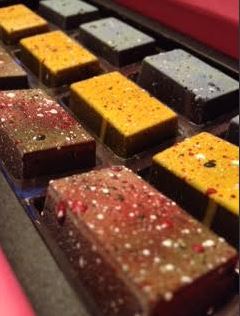 One of the things I love about Christmas is all the delicious yummy munchies. I really just love chocolate and Christmas but together they are really special. To increase my pleasure, I've received some rather special chocolates from Paul Wayne Gregory to review.
Paul Wayne Gregory is an ambassador for Cacao Barry. He uses this chocolate in all his chocolates and recently he's gotten really creative with the decoration as I hope you'll be able to tell 😉 The chocolate isn't my favourite part but the flavours are. The shell is just thick enough to balance off nicely against the filling. So to this special Christmas Chocolate Selection: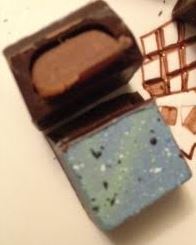 Sea Salted Caramel – no box of chocolate would be complete without sea salt caramel. This one is quite thick as I hope you can see. There might be vanilla in it which might account for the slight flavour of coconut.  They are fun though and you get a whole row of blue sea salted goodness. That means you don't have to worry about sharing 😉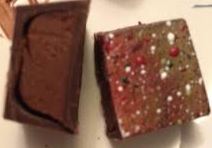 Christmas Pudding – thick and full of Christmas spices I can almost taste Christmas pudding covered in booze. The flavours of Christmas pudding are infused through this chocolate making it like a mini Christmas pudding in a chocolate. Why not grab a bit of Christmas pudding in a rectangle 😉 I'm not a massive fan of the Christmas pudding – I eat chocolate puddings 😀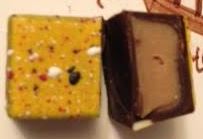 Passion Fruit – Probably Paul's favourite flavour, the passion fruit is sharp and fruity. The perfect palate cleanser after a meal – or maybe after all sorts of other chocolates 😉 This chocolate is deliciously sharply fruity and so the chocolate balanced it of, rather than being a star feature of the chocolate.
Overall these are fun chocolates. As British-made, hand-made chocolates by Paul in his kitchen near London, by choosing these chocolates you are supporting an artisan. By choosing Paul Wayne Gregory chocolates you are supporting an artist who places as much emphasis on how things look, as how they taste. Buy British – buy Paul Wayne Gregory