December 3, 2013
Cocoa Runners – A Gift That Keeps Giving
Quality chocolate is something that never goes out of style but sometimes it is difficult to source and once you find some, how do you know what to choose? It's a bit of a minefield but there's a company that has come along to take the difficulty out of choosing chocolate for the chocolate connoisseur or snob in your life.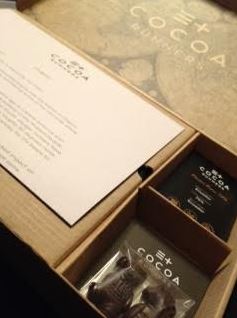 Cocoa Runners is a subscription service that is perfect for any chocolate lover. Every month you get a box with a variety of bars in it. All high quality, all with tasting notes. This is all in a box that slips easily through pretty much any mailbox. The chocolate bars are all curated, with a board of chocolate passionates with excellent taste in chocolate who have tried pretty much all chocolate choosing the best to send to you each month.
All the chocolate is bean to bar – that is, all the chocolate was made by companies buying beans and turning them into bar chocolate. There are so many people doing wonderful things with cocoa beans from Soma chocolate to Marou making chocolate in Vietnam to Dick Taylor in the US to Duffy in the UK, they all have something unique to offer but they are all scattered around the world. Cocoa Runners brings all that great global taste from the four corners of the globe to you each month – right to your door.
You don't have to worry about not knowing what you should taste or how you should taste it because the chocolate tasting cards help tell the story of the chocolate. The box itself is both beautiful and functional. The inside is beautifully organised and printed making this an absolutely perfect gift.
Whether it is a corporate thank you, a gift for someone you care about or a gift for yourself, the Cocoa Runners subscription is guaranteed to make a positive impression.