November 22, 2010
Paul A Young Sea Salt Caramel Chocolates Review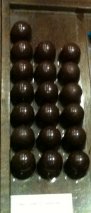 I don't know how it is I haven't reviewed these Paul A Young Sea Salt Caramels before since I eat them like candy.  I absolutely love these chocolates!
The shell is made from delicious dark chocolate in a dome shape so the top of the dome is thicker than the sides.  I say this to warn you really.  My other warning is that it is too big for a single bite but you need to approach this delicious chocolate strategically in order to enjoy it fully.
Turn the sea salt caramel chocolate upside down so you are looking at the base.  This has to be our approach.  Be careful not to squeeze this chocolate or you'll have sea salt caramel all over your fingers (speaks the voice of experience).  Now, the base is sealed by a plug in the base (now the top) which is often thicker than the shell at this point.  I like to gently bite around the rim to 'pop' the plug out and scoop a small amount of caramel out with the base.  Now we have the structure of the shell intact with a missing bottom.  I suggest here biting the side and close to the top (at the moment, this is our bottom) but not through the top itself as this chocolate is often thicker.  Let the shell break but be careful about all the caramel – you don't want to waste any.
Lovely, don't you think? Absolutely lovely. I like to buy a few and have one or two per day as a treat.
This is my favourite sea salt caramel ever though I do munch on Artisan du Chocolat sea salt caramels an awful lot too… 😀