November 22, 2010
Divine Dark Chocolate Covered Sea Salt Fudge Review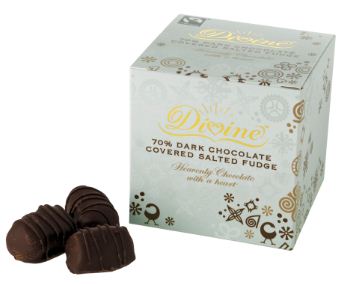 Fudge on its own would have been absolutely fantastic but add chocolate to the mix and it becomes irresistible.  This Divine fudge and chocolate mix is so absolutely wonderfully delicious I hid it from everyone and took it home (whereas I did share thin after dinner mint chocolates).
These squares of soft but crumbly fudge are going to be loved by many people.  While I prefer creamy fudge I really dislike hard fudge.  Thankfully this has the crumbly nature of hard fudge but is soft and lovely, crossing over to approach more towards the consistency of soft fudge.  While I can't spread it on a slice of bread, it does melt in the mouth and is easy to bite through.
The chocolate isn't too thick but is enough to give it a delicious chocolaty flavour to the rich fudge.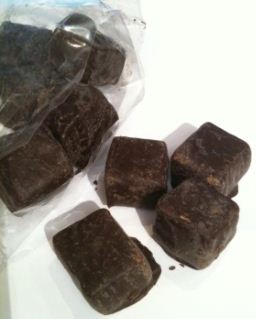 It isn't a thin shell and has good structure to it so there is a significant quantity of chocolate to this confection.  The sugary fudge has a darker flavour which isn't as sweet as most fudge because of the sea salt but is still distinctively fudgy.  There was bloom on mine but that could be for any reason and I really don't think it hinders the chocolate/fudge experience.
I'll likely be buying more of this as soon as I can.  In fact, if you buy any, invite me over so I can try some more.  I may have to start mugging random people on the street for their Divine chocolate sea salt fudge as I'm already suffering from withdrawal…