November 23, 2010
Matcha Chocolat Winter Selection Review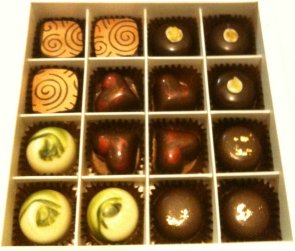 When the iconic box emerged from the bubble wrap, I knew I was in for a delightful treat.  The tea chocolates made by Katie by hand in the most lovely peaceful surroundings I have ever had the pleasure to visit carry with them some of that British country village charm.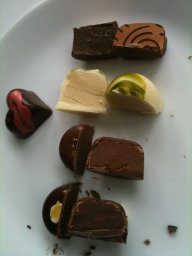 These chocolates are something special and even the crumbs I removed from the plate when I was taking the pictures carried the flavour of the tea and yet were not overpowering.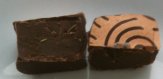 Matcha – soft ganache with top quality matcha gives is a flavour of creamy high quality green tea.  With none of the bitterness of normal green tea, this is delicious and creamy and delightful. You'll be converted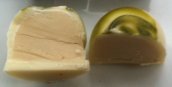 Jasmine pearls – strongly jasmine but distinctly tea and not perfume.  There is a sweetness and slight possibly vanilla edge to the while chocolate but it was fleeting. The lasting impression is of strong jasmine tea flavour with none of the perfume artificial flavour so many use.  This jasmine is a delight and I'm honoured to have the tea itself too

Mint & Green tea – dark with real mint with its raw green flavour is slightly overpowering the tea flavour here but I'm not sure if that is deliberate.  The tea is absolutely in the background supporting the mint to bring it to the front of the experience and fill your mouth with fresh mint flavour.  Skill here is lack of bitterness or any hint of old mint – this is fresh as the day it was picked.  The green tea, which played a supporting role for the initial mint comes through afterwards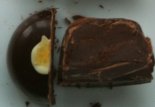 Earl Grey – this chocolate is subtle and I must reluctantly admit to like being slapped in the face with a wet fish when it comes to earl grey tea chocolate.  This, however, is going to appeal to *way* more people than anything I ever could make 🙂 The earl grey isn't over-brewed (I like builders tea – so sue me) and is subtle. In fact, the candied orange on top enhances the natural bergamot flavour so you get the effect of a delightful tea, not too strong with a hint of bergamot.  I'd gamble and bet even people who don't like the tea would like this chocolate.

Masala Chai Caramel – I love that the centre of this box is four hearts with a pink stripe. I'm a girl so sometimes I do get a bit mushy about this type of thing despite being kind of boy-ish most of the time.  This is a strongly flavoured chocolate though so before you try it, indulge in the others.  In fact, I'd recommend the order I went in if you have this box to yourself.  Really… get yourself a box to eat then get an extra one to share as I guarantee you'll want to share this!
This selection is delightful.  Sometimes I think it is a shame when we can't get all the flavours we want every time we want (I'd die without a regular infusion of Paul A Young Sea Salt Caramels) but I also think that creating a special seasonal selection like this makes it even better.
Buy some of these direct from Matcha Chocolat this holiday season – they are a top pick from me for yourself or as a gift and I guarantee that they will be appreciated and recognised for the high quality they are.