May 6, 2015
Original Beans Four New Bars Reviewed – Grand Cru, Edel Weiss, Femmes de Virunga & Kerafat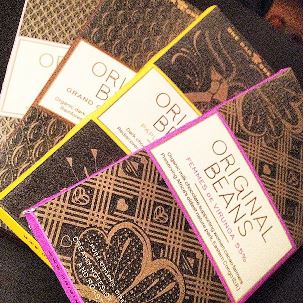 All my images bar the above one were lost when my phone was stolen so the images are from the Original Beans website HERE.
Original Beans is probably one of the most reasonably priced ethical chocolate companies. Somehow they have combined trading directly with chocolate-growing communities with planting a tree for every bar sold and a lower price than many artisan bars. I don't know how they keep prices so low but by doing it they have managed to keep doing good in lots of communities.
They have had a core of four bars for years now and so it was quite exciting to find out that they had decided to release four new bars to add to the range. I've long loved the Esmeraldas Milk with Fleur de Sel and while it isn't always my handbag chocolate I could probably decimate a catering bag of the stuff single-handedly.
Keeping to their ethics, these four net bars all have a story to tell. Whether it is a new origin or an all-women co-operative, Original Beans have stuck to the reason they got in to this in the first place – to do good in communities around the chocolate-growing world, preserve habitats and plant trees.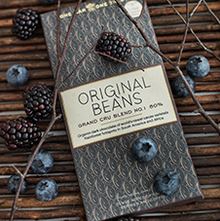 Original Beans Grand Cru Blend No 1 80% – A blend of African and South American beans, this bar is a jump up to a bold 80% with less sugar and more cocoa. They say the blend is a secret but I have my suspicions 😉 though they say it is a blend of the rarest cacaos on earth. With notes of over-roasted beans coming through,  then coffee, it makes we wonder about which beans and if perhaps there were some small ones in the batch I got. This could be deliberate as some house styles go for a heavier roast. Bitter and astringent it isn't my cup of tea but I know some of you will love it because you keep asking for more bars with this flavour profile 😉 So if it is that popular a flavour profile I can't argue that it is well executed and ethical!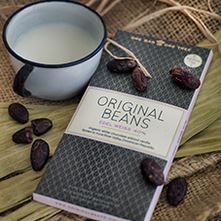 Original Beans Edel Weiss 40% – this is a white chocolate from the Dominican Republic. This bar is interesting and as the argument as to whether white chocolate is actually chocolate rages on, I'll say that this one certainly is. The interesting almost goat milk notes combine with the natural flavour of the bean to make something very interesting. Not fruity but definitely something interesting so we're not getting those red fruit notes so common in DR chocolate. Strong flavour regardless, this is a sweet, interesting and quality white chocolate.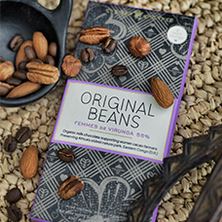 Original Beans Femmes de Virunga 55% – organic milk chocolate supporting women cacao farmers preserving africa's oldest nature park, Eastern Congo (DR) – Well, it is hard to believe this is a milk. Rich cocoa notes with hints of fruit come through without that weird myuddling of flavours you can get in a Madagascan milk which has a similar flavour profile in the bean. The milk adds a malted quality to the chocolate and overall makes it something stunning. This is the kind of milk chocolate that bridges the gap between milk and dark and does good too. If you are a milk fanatic and can't imagine eating dark, give this a try as an inbetween step and see what you think. Already into dark? This is a not-too-sweet treat!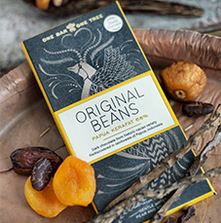 Original Beans Papua Kerafat 68% – This is apparently aq "historic cacao" but there is a different and weird flavour profile. I don't know if it is the yellow on the box but I get strong yellow fruits with a weirdly compelling and complex nose. It's almost like a glass of wine in a bar with the flavour complexity approaching the levels in wine which chocolate sometimes chocolate fails to achieve. I might even get kumquat. It's amazingly complex but it's going to be a love/hate flavour from its strong complexity (is that banana now) so just be warned (wait – I think I have starfruit). If you'd like something that is complex and interesting, which evolves as it melts, this is an absolutely brilliant bar.
All of the bars in this range offer something different. From white to 80%, each bar compliments the existing range while also offering something different and new. Hopefully this will become part of the core Original Beans range and I'll see some Femmes de Virunga mousse or Kerafat torte on menus soon.