May 7, 2015
Dr Who Mini Coffee Flavoured Sponge Cakes (or giant cupcakes) including UK/US measures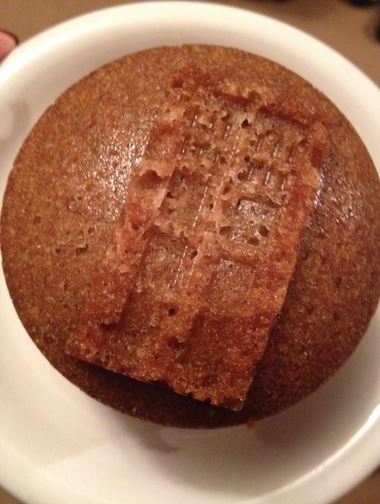 So with my phone being stolen and all my images of these cakes but one stolen along with it, I have one one image to present to you – and it isn't great. However I thought I'd still post the recipe because it was an interesting set of cakes. I'm not sure I'd do them again because the mould was a pain to clean but it was fun the once.
If you're looking for a four egg cake recipe (the packaging of the mould specified a four egg recipe was required) then you've come to the right place! This will create six mini cakes which I suppose are just giant cupcakes.
250g (apparently 8oz) very soft butter
255g (weirdly the conversion chart says 8oz too) golden caster sugar
250g (again with the weird conversions to 8oz) plain flour
1 tsp baking powder
1 tsp baking soda
4 large eggs
1 tbsp Nielsen Massey coffee extract
Preheat the oven to 180C/160C fan or if you are in Toronto or the US or whatever you'll be using F so 350F/315F fan. But really, what cake is *not* baked at 350F?
Take the golden caster sugar and butter and cream together. This means you need the butter as room temperature. I find Lurpack works the best as otherwise the sugar remains granulated in the butter.
Once creamed together and a light colour, add the eggs one at a time, mixing them well into the batter as you go. If the eggs are cold, the mix will look like it has curdled so make sure they are at room temperature too.
Now add the *tablespoon* of Neilsen Massey coffee extract.
Finally, sift the flour, baking powder and baking soda together and fold into the mix, combining it well.
Divide the mixture between the six different moulds, filling them only 3/4 full as they will rise.
Place the mould in the preheated oven for 25-30min or until a skewer comes out clean. Remember ovens heat differently so use a skewer or Kitchen Witch to check.
Allow to cool and enjoy!
When I reached out to my network asking for a recipe, here is what I was sent:
http://bluekitchenbakes.blogspot.co.uk/2014/09/coffee-and-walnut-layer-cake.html
http://www.cooksister.com/2011/01/decadent-spiced-chocolate-orange-cake-forever-nigella-indeed.html
http://www.cooksister.com/2008/11/decadent-flourless-chocolate-cake.html
http://www.howtocookgoodfood.co.uk/2012/06/spiced-espresso-loaf-cake/
http://maisoncupcake.com/festive-mini-coffee-cupcakes-with-aero/