October 17, 2010
Melt Wine Chocolate Bar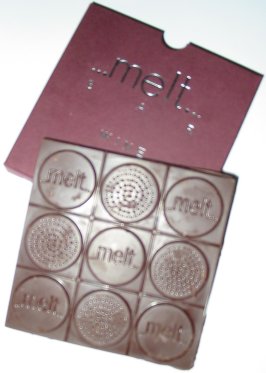 At Chocolate Unwrapped, I admitted that I had not yet tried Melt chocolate bars.  I had been busy giving them away to everyone else but me.  Well, they changed that by giving me a wine bar to review on the blog.
According to Melt, the cocoa beans used to create this chocolate were of the Criollo variety, which produce the highest quality chocolate. The Criollo variety of cocoa bean represents less than 5% of global cocoa production. Melt say that this is a deep, sophisticated chocolate that will take you on a long interesting journey.
The wine bar has a subtle flavour.  I think that the wine so perfectly balances off the chocolate that it doesn't stand out on the palette as a distinct flavour.  I can taste the slight raisin-y flavour the wine is enhancing the flavour of the bean but it creates a better chocolate taste overall, rather than forcing a wine flavour over the chocolate flavour.
Once the chocolate has melted in the mouth, you are left with a distinct after impression of the red fruits of the wine but again, nothing aggressive or overpowering.  It is really the perfect marriage of flavours with the wine only enhancing the flavour of the chocolate.