October 18, 2010
Hotel Chocolat Chocolate Covered Cocoa Nibs 'Super Boosters'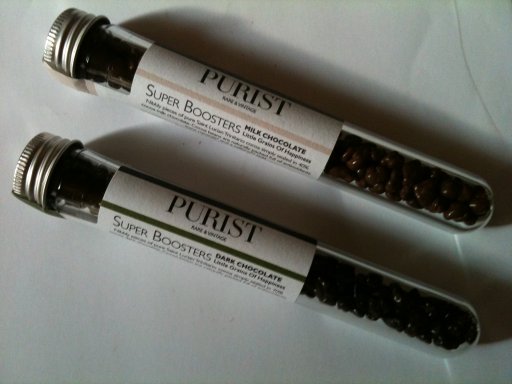 I first tried these at a Hotel Chocolat event.  They were small – one might say innocuous. I took a couple, then a few more, then a small pile.  Chocolaty, crunchy, yummy, not too sweet…  these were lovely and strangely I felt better for a little whole after I ate them.  I was feeling run down and had flu but I perked up about 20 or so minutes after eating them.
I love the test tube they come in.  I really dig that design and the screw top that means you can close it again.   I have to say that they are slightly addictive and you don't really realise how much you are eating when you are eating them.  Also I was a bit wired when I tried them later on. Oh and they can get slightly bitter if you try and eat a whole tube at once.  Even the milk chocolate. Aaaaand you might not feel well… for awhile so maybe pace yourself. Maybe.
The chocolate is quite typical Hotel Chocolat and the cocoa nibs, when not consumed in large quantities are quite pleasant. I can imagine nibbling them while sipping coffee enjoying a relaxing Sunday.