September 19, 2011
Melt Chocolates Chocolate Mud Pie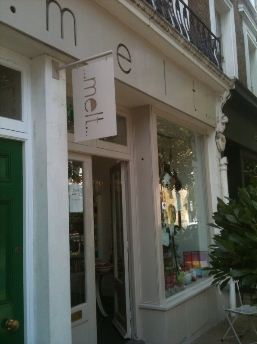 I had the great fortune of meeting the delightful expert Raquel in the Melt Chocolates kitchen and got the chance at last to try the Sea Salt Mud Pie I had read about at Chocablog and had been wanting to try for three months.
The trip to Melt was an adventure and despite there being a boarded up shop beside them, the Melt shop was immaculate with a delightful area set outside to enjoy the day in.  The shop was so fresh with the white paint and cool in the shade and with both doors open it was a cool space to dwell in.  On two levels it really makes you slow down and investigate the small but well-laid-out interior which boasts certificates of their achievements including the gold they won at the Academy of Chocolate which I helped to judge (pear tatin is reviewed here). I picked a few chocolates which will get a separate review.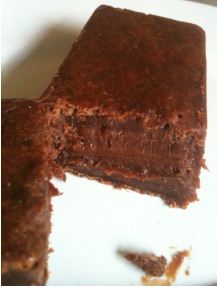 The first taste test I had was of the mud pie in a chilled form.  It was solid and chewy, clearly salted caramel with chocolate and coked so that it had a delightful solid bottom and brownie-esque top.  Raquel said that she had to chill the mud pie to make sure it cut cleanly and having a piece of this chilled mud pie was awesome.  You could taste the chocolate and the caramel.  It's like a salted caramel chocolate brownie.
I brought a slice home and as you can see it stayed solid on coming to room temperature and in fact it is extremely easy to eat.  The slice is not sticky despite being caramel and chocolate you can hold this, as I did, for ages and it won't melt or get sticky. This stuff is dangerous and thank all that is diet-related that I cannot easily get here and it is a significant walk from the tube (but regrettably close to a bus) as it means that I will, at least, work off some of the calories I'll be putting on as I return again and again for this delicious confection.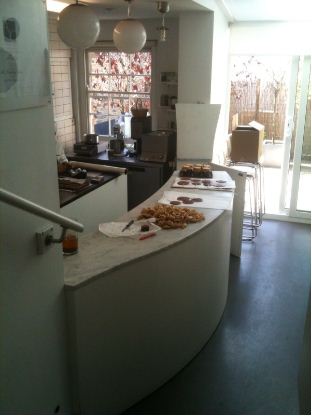 Handmade and created without preservatives, this won't last forever on the shelf and really – what kind of a person would buy this and leave it around for more than 24 hours?  If you know them, let me know as I'll be happy to invite myself over and eat it for them.
Delicious sea salt caramel meets decadent chocolate brownie to rival Paul A Young.  Thank goodness for Melt!