February 3, 2012
Matcha Chocolat Valentines Selection & Win A Box! [CLOSED]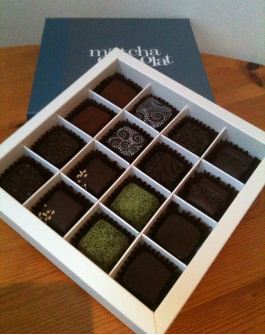 That's right – I've teased you with my reviews of it and now it's here for you to order in time for delivery on Valentines day.  This delightful selection must be the best yet from Matcha Chocolat, combining Japanese inspired flavours with matcha tea and delightful jasmine.  This will absolutely make the perfect gift and with two of each chocolate, it's a gift that you can be sure will be shared.
The Valentines selection needs to be bought now and will be shipped on February 9th so go and ORDER NOW or take a chance on winning a box – check the bottom of this post for details.  The flavours are perfect and I've seen a sneek peek of the next 2 selections and they are very different so grab this selection now.
The Limited Edition Valentine's Day Selection includes the following 8 varieties:
Chestnut & Japanese Whisky (2) – Dark chocolate blended with chestnut puree and Yamazaki 10 yr single malt whisky. I really loved this one. The whisky comes through in the middle of the melt with a bit of a punch. Delicious and delightful without smkacking you in the face with a wet fish of alcohol.
Matcha & Pistachio Truffle (2) – White chocolate blended with pistachio paste and matcha tea. Dipped in dark chocolate and covered in a sweet, matcha coating. OMG YUM! I loved these. I hae to admit the name worried me but the sweet exterior, high quality chocolate and delicate ganache won me over
Yuzu (2)- Dark Chocolate blended with yuzu puree (Japanese citrus fruit). This has been done without a jelly and it is brilliant. For the first time I was able to taste the yuzu without it being really clouded by the chocolate or separated off in a jelly. Difficult to do, that takes real skill and Katie has really pulled it off.
Ginger & Lemongrass (2) – Dark chocolate with an infusion of fresh ginger and lemongrass. Wow! The lemongrass is striking and the ginger more gentle and even after eating a whole one the ginger was still only gently warming and not too overpowering at all. You could eat both of these and they won't be overpowering but just remind you of something delightfully Thai.
House Dark Chocolate Truffle (2) – A dark chocolate truffle made with single origin chocolate from the Villa Grancinda plantation in Sao Tome. AWESOME! I really enjoyed this plain truffle and if the flavours get to be to much, pop half of one of these in your mouth and let it melt – delicious!
Jasmine Pearls (2) – Dark chocolate ganache infused with jasmine pearls tea. Dipped in dark chocolate and decorated with a white swirl motif. I LOVE this chocolate! It is absolutely delightful and I have to admit that I'm addicted. The jasmine is floral without being perfumy and is not synthetic. Just magical and tasty!
Vietnamese Cinnamon (2) – Dark chocolate ganache and the finest Vietnamese cinnamon. As I mentioned in my last review I was surprised that the cinnamon here is so different than what I used to get back in Toronto until I realised it is different cinnamon. Well, this is just delightful capturing the taste of cinnamon without being overpowering. It captures the flavour without being too woody.
Cardamom & Banana (2) – A sweet and spicy blend of banana puree, cardamom and dark chocolate. As you know from my sneak preview, this is a great flavour combination. For me, the banana and cardamom balance perfectly with each other and create this brilliant new flavour that I cannot believe no one ever did before. I just cannot get over how brilliant this flavour is!
As with all of Katie's chocolates, these fresh chocolates have a shelf life of two weeks and so when you order, you'll have to do so before February 9 as otherwise you'll miss the chance. These are limited edition so grab them now because the next two selections are different!
To win a box of these amazing chocolates, follow both @mostlyaboutchoc and @matcha_chocolat and tweet exactly I've entered to win a limited edition @matcha_chocolat Valentines selection with @mostlyaboutchoc http://bit.ly/zMCPDy  and the winner will be contacted in the evening of February 8th and needs to get in touch promptly so they can get their chocolates!
And to the rules:
1.Only one entry per method per household.
2.The competition closes on 8th February 2012 at 8pm UK time.
3.Only open to those 18 or over on 5th February 2012.
4.I'll choose 1 winner randomly from genuine tweets – any which look to be the result of a bot or automation system will be excluded.
5.Only available to UK addresses.
6.No cash alternative available.
7.Your details won't be passed onto anyone else except to Katie from Matcha Chocolat who will be sending you the prize!