February 6, 2012
Gail's Bakery Redux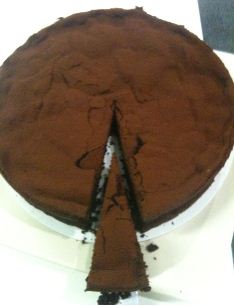 I went to Gail's bakery across the street from Paul A Young and bought myself some of the brownie iterations on offer there. I thought that I'd give them a try. The newest Gail's bakery is in Soho right across from Paul A Young and so as I was in the neighbourhood buying some choccies I thought I'd try the rival from across the street. Should Paul be worried? Should this new addition using more than one kind of chocolate worry him?
The staff at Gail's are great. They are full of fun and seem quite enthusiastic. The gentleman who served me spoke about how the chef wanted to change the brownie recipe and he simply would not let him. But that visit is not what I'm writing about. I'm writing about the brownies and flourless chocolate cake Gail's kindly sent me for review after I contacted them about the brownies I bought.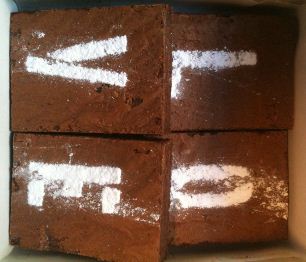 The four Valentines brownies in a box, each with a single letter was the first thing I tried.  This is a fudgy chocolate brownie with a proper brownie top. These brownies have a moist consistency and are quite nice. The chocolate has a distinctive taste and anyone familiar with the various couvertures will recognise the distinctive flavour notes. The brownies are also quite large – around the size of a BlueBasil brownie – and so it did take me a long time to finish one 🙂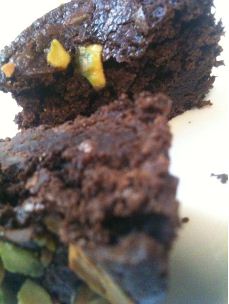 The smaller pistachio brownie bites had a completely different consistency. They are more chewy than fudgy and have a much stiffer consistency. The chocolate flavour is quite dark and when shared with the office they were not as decimated as the LOVE brownies were so the office absolutely liked the fudgy brownies more.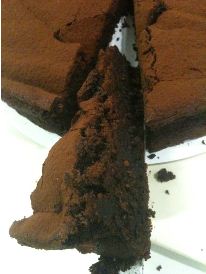 The final baked good was an extremely chocolaty flourless chocolate cake. It was HUGE and this was absolutely perfect for the office. The moist centre with a firm outer crust and lack of wheat was perfect for me and I took such a big slice I couldn't finish it all! The cocoa dusting was the perfect finishing touch for the cake. It didn't taste particularly nutty and so was the perfect chocolate cake.
All in all these were really lovely baked goods. If I was off to a party I'd definitely buy the flourless chocolate cake as not only was it absolutely massive, it was delicious and so I'd know it would both be a big it and still have enough left over for the hosts.