February 11, 2015
Maison du Chocolat Valentines 2015 Selection Box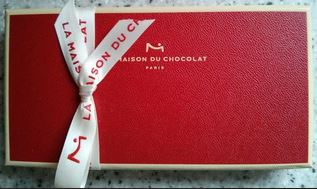 I'll say it here – visit the shop on Piccadilly and buy a box. Stand up now, leave wherever you are and just go and buy a box of these now. Get the 15 piece box and it'll come in a nice bag as well. Add a bottle of Nicolas Feuillatte champagne and you'll be set for the year. Just go – HURRY!
Why am I such a fan of this selection? Well, it's a mixed bag. Some of it I'm in love with, some of it I'm just OK with but know a praline lover will love it. So that means I know that no matter who you buy this for, they are going to love it and pairing it with a delightful champagne which is apparently the top selling champagne in the UK, well, the numbers don't lie!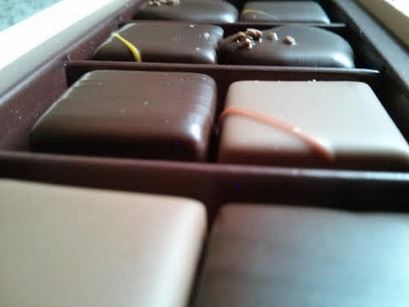 In addition to their great taste, the chocolate used to make this chocolate is Valrhona. That means that you can be sure that at a minimum the chocolate is ethical and fair. Just because a "Fairtrade" stamp isn't on everything doesn't mean Valrhona buy unethical chocolate because I understand that they don't and work hard not to. I'm still digging but everything so far looks ethical. So you're buying ethical delicious chocolate.
What does La Maison du Chocolat say about their collection? Well: "For Valentine's Day, Nicolas Cloiseau composes chocolate poetry, well-versed in sweetness. The elegance of rich, smooth caramel is a revelation in this collection with reinvented notes that push the limits of how caramel is perceived. Imbued with love and romance, this collection plays on suggestive sensations. A seductive game of hide-and-seek, where gourmand savoir-faire reveals itself through the perfect touch of fruit, the unusual crunch of a praline, or the unexpected hint of sugar. The innovative caramel blends respond to and balance each other for a perfectly harmonious taste."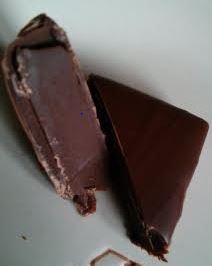 Woody Accent: Plain dark ganache, pure cru Criollo from Venezuela with notes of caramel. There are genuine caramel notes I wouldn't normally expect from a Venezuelan chocolate but this has it. It's almost honey-like in its deep dark notes. A little molasses-y and delightful. Nutty but delicious.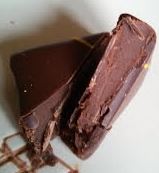 Fruity Revelation: Dark chocolate ganache featuring roasted pineapple with a hint of fresh ginger. I struggled the first time I tried this to get pineapple. I sort of understand intellectually now that I'm getting it but it's difficult. The ginger is a soft flavour which slowly develops through the melt and lightly warms on the palate.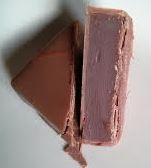 Fusion Caramel: Milk chocolate ganache with an infusion of red Rooibos tea gently sweetened with maple syrup. Now, maple is a delicate flavour so unless you use synthetic it can be lost as it is here. What you get is a complex sweet note that is hard to pick out as maple (though give it time and you will) and the rooibos lends another unique flavour to this. Probably my favourite in the box after the pure "woody accent".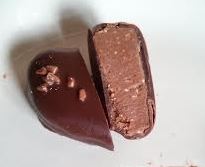 Crunchy Heart: A praline with pure Piedmontese hazelnuts with slivers of caramelised biscuits. This is nice considering I don't like pralines. The flavour of the hazelnuts isn't too strong for some reason and the caramelised biscuit helps to add a depth and sweetness meaning I'm not getting the usual bitter notes possible in praline.
And there you have it so now you've bought your box you're ready to face the weekend in style 😉