February 10, 2015
Hotel Chocolat The Sleekster Valentine's Selection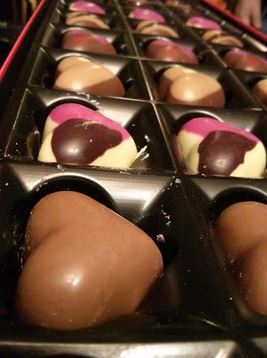 I'm a bit of a HC fangirl truth be told. As you might have spotted from my Hotel Chocolat factory tour, I am really impressed with what Hotel Chocolat are trying to do. Last year they had a solid chocolate heart box filled with chocolates and I didn't get one. I'm not bitter… much. I mean, I did try and buy myself one but they had sold out. I did get a lovely Easter Egg though!
ANYHOO – so for Valentine's day Hotel Chocolat has created many things but one of them is this sleekster of NINE DIFFERENT flavours of chocolate. Sadly only two are boozy (gin and champagne) but they are delicious – especially the balsamic caramel.
So what are the flavours?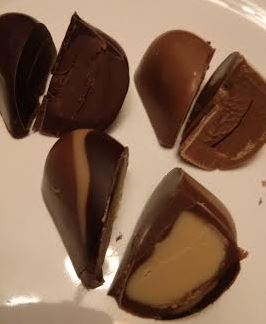 72% Madagascan Cocoa Truffle – Rare cocoa truffle with natural notes of raspberries and cherries and a whisper of coffee says HC. Well, it tasted like Madagascan but it doesn't have the lovely fruity acidity I'm used to HOWEVER there is very little bitterness and so it makes it a delightful dark chocolate truffle.
Caramel Dizzy Praline – The silkiest, smoothest hazelnut praline in caramel milk chocolate. Meh – I'm not a massive fan of this one. I think it'll be the last in the box and likely not get munched 🙁
Salted Almond Praline – Mellow almond praline in creamy white chocolate with a perfect pinch of salt. Also not a favourite. I think I might refresh my palate with something boozy 😉 Oh wait – there's something fruity coming up!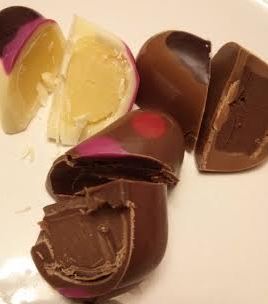 Passion Fruit Truffle – Tangy passion fruit purée blended into a creamy white chocolate truffle. LOVE IT So tangy and yummy and not too sweet I love the way it makes my cheeks tingle and the fruitiness is fab.
Caramel Gianduja – The silkiest, smoothest dark hazelnut praline in mellow caramel chocolate. Not bad but a bit too sweet for me. I'm not quite getting a clear caramel but it is there. Mostly though it is nutty so I'll let the office mates have this one after I eat all the balsamic caramel ones 😉
Heart Champagne Truffle – Elegant and uplifting milk chocolate cream truffle with a generous splash of champagne. Actually kinda nice.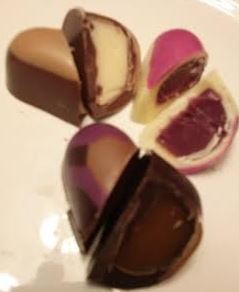 Gin Truffle Heart – Light London dry gin truffle with plenty of juniper notes and fresh citrus zing. I get mainly citrus and a zing of booziness 😀 I could eat a lot of these – ooooo dangerous!
Lemon Berry Tart – Zingy lemon and red berries mellowed in a light and creamy white chocolate truffle. A bit dangerously moreish with really zingy fruity flavours I could probably eat a box of these alone. And the gin ones. Oh and the balsamic caramel 😉
Balsamic Caramel – Deviously delicious soft caramel sharpened with a dash of cocoa balsamic vinegar. My favourite from the whole box. I'm going to have ti find these in the selector because I want a box of 6 all for ME!Slightly tangy but sweet and delicious. Not at all vinegar-y and I think you're going to love it too.
So with nine different chocolates to choose from there is something for everyone. I suggest you buy one quickly though because with 27 chocolates for £22 they won't last long!