February 9, 2015
Paul A Young Valentines Collection Chocolate Box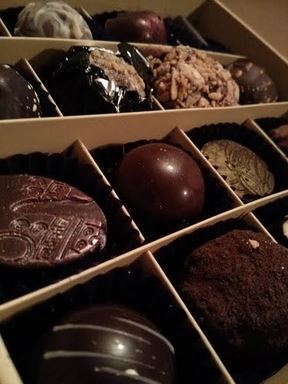 Any box of chocolates that includes a salted caramel dome is a winner to me. Luckily while I had photo'd other Valentine's treats, I had saved this for last so I have images of it. And the chocolate. YUM! But my iPhone remains stolen and in the hands of criminals. Boo! These pictures need PicTapGo to fix the colour balance 🙁
So you need something awesome for Valentine's Day. It's for the man or woman or person in your life and you need it to be awesome – well you've come to the right place.
Using only the finest ingredients, the collection echoes the smells, textures, colours and tastes of famous getaway cities. Recreate memories of past trips, hint at a romantic break to come or simply eat your way through the ultimate dream holiday with a box featuring all the flavours!
Take a taste trip with Paul A Young to cities in far-flun places without leaving the comfort of your champagne/wine/G&T/whatever. Opening a box of these is like opening the door on the world, experienced through chocolates. You can choose one or all of the cities of the world like: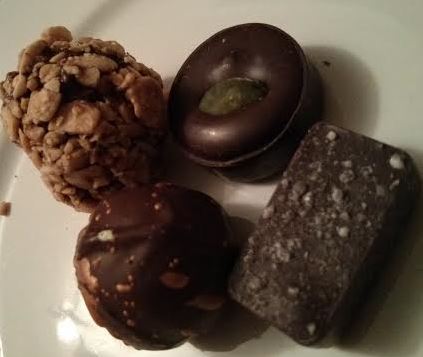 Marrakesh – Mint leaves, tea and rose petals, Varhona 72% Venezuelan to evoke those shooks with their mint tea sellers. This taste evokes memories of hot sun, dry breezes and old men sitting over backgammon boards, drinking tea and smoking.
Paris – Fontaine Absinthe, lump sugar and water, Valrhona 64% Dominican Republic. Here we remember a Paris from another time where salons had the Bohemians inn them, lump of sugar balanced on a strainer as the absinthe was dribbled over it, creating swirling clouds of sugared Absinthe in its wake. Think of the movie the Moulin Rouge or Brahm Stoker's Dracula.
New York – Vanilla cheesecake, Valrhona White chocolate, Madagascan Vanilla bean, digestive biscuit, Valrhona 72% Venezulean. Ah the famous New York Style Cheesebake recreated in a truffle to evoke the buzz of Times Square – a dessert shop, a coffee and a slice of cheesecake – LUSH!
Seville – Marmalade ganache, toasted almonds, Valrhona 64% Madaagascan. Besides making a delightful marmalade sandwich preferred by Paddington Bears everywhere, this evokes the dusky heat of Seville in the summer, the smell of the oranges hanging in the air as the heat grows. Biting in to one is like experiencing that summer heat all over again.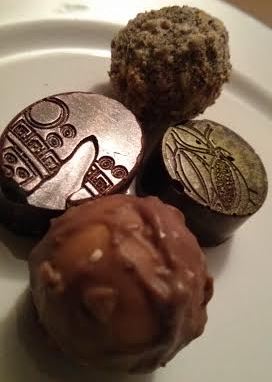 Lisbon – Pastel de nata (Portuguese custard tart) truffle, Madagascan vanilla bean, Valrhona white chocolate, Caramelized milk chocolate, wafer pieces. I'm sure if you've ever had a Portuguese custard tart you won't be able to resist the chocolate version of this delight. Creamy, smooth with a bit of something extra in the crunch of the wafer pieces. Rich but delicious.
Istanbul – Pistachio, honey and fig caramel, 67% Michel Cluizel Saint Dominique. While I'm not a massive fan of this one, I'm sure a lot of people will be. That fig flavour only enhanced by the honey, creating something as savoury as it is sweet. That combination just turbocharged by the pistachio. Istanbul in it's hot and ancient glory.
Copenhagen – Romkugler, chocolate cake, Appleton estate rum, 70% Valrhona. Like the city itself, this tastes expensive 😉 This is so boozy I think I might blow over the limit after one! I have been dehydrated lately so the cake crumbs on the outside were a bit drying but I'm sure most folk will love them as it adds this great dimension.  The flavour is absolutely amazing – especially the complexity of the rum as it certainly isn't boring! Depth and richness and hidden booziness which slaps you in the fact with a wet fish – much like the city itself!
Dublin – Guinness truffle with soda bread, 65% Duffys Dominican Republic. What can I say? Booze, flavour and a bit of crunch but not like wafer crunchy. This is so much like the city itself with its cobbled streets, chocolate shops (I saw lots) and delightfully inebriated inhabitants so full of happiness they can't help but make everyone around them happy. It's like nibbling a Guinness smile 😉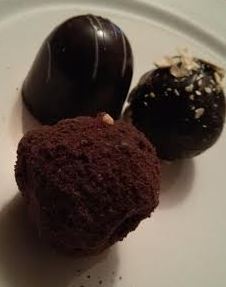 Edinburgh – Glen Moray Port cask whisky, oats and salt, 83% Duffys Ecuadorian. WOOF BOOZY! Holy cow that is a bit intense! My goodness – the oats were very different and slightly dry from the ones on the outside but wow this is amazingly – BOOZY! Now I'm sure I'm blowing over the limit (probably not but you know, it feels that way). I can forgive a lot when a nice whisky and awesome chocolate come together!
London – Sacred distillery Gin, Bermondsey tonic water and lime, 64%  Michel Cluizel papua new Guinea. I have to admit I didn't get the tonic but maybe I wasn't meant it 😉 Gin gin gin gin gin! I love how London's new gin culture is so beautifully captured in a truffle. The botanicals are slightly lost to me (dehydration likely to blame) but it is a wonderful truffle. I think if 'when one tires of London, one tires of life' then when one tires of this G&T truffle one must swap back to the salted caramel 😉
Venice – Mascarpone, basil and limoncello, Valrhona, 66% Caribbean.  I don't quite get this one. It isn't a sharp lemon but sometimes limoncello just isn't. Maybe I'm drunk but isn't that the point at which the waiter comes over with a round of limoncello and you think 'well, it is Venice so why not' and neck it, falling backwards in your costume, mask still on and thus dignity intact (until someone notices the bruises and hangover) 😉
I received a 16 piece box which costs £26 and is well worth it. In addition to the cities, we got a salted caramel (frankly I buy mine in boxes of 9), champagne truffle (deliciously boozy), passionfruit heart (tangy and zingy), coffee and peppermint (light on coffee for husband – he would probably prefer an espresso ganache 😉 ), and cigar leaf caramel with the light infusion of cigar leaf in the caramel (I'm not sure my kid sister approved).
I've written far too much. Go – go to Paul A Young and buy yourself a 16 piece box like this one. No, buy 2 – one for you and one for the person you love 🙂