January 4, 2013
Kit Kat 70% Dark Limited Edition Chocolate Bar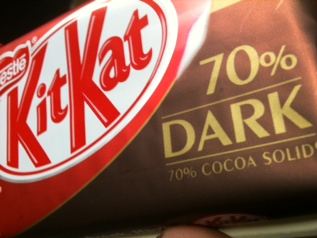 What is it like? Is it bitter? Is it crappy? Does it taste like week-old cardboard? The answer may surprise you… or you may have seen it coming a mile off…
I was in the queue to buy lunch (cashews & soup – I know how to party) and I looked longingly over at the crisps and chocolate section. I never buy anthing but liketo entertain the fantasy that one day I might once again discover a single origin chocolate like their Sao Tome or Dominican Republic. I dream of those days…
I somewhat mindlessly scan the chocolate section, fantasising about eating a Snickers and then I spot it. It's there, sitting innocently next to the normal Kit Kat's – the Limited Edition Kit Kat Dark. I have heard of this mythical beast but never found one in the wild. Suddenly I am face to face with this bar.
I move slowly so ad not to spook it… I almost walk past then grab the bar just before I am completely past, quickly securing it in my basket (on top of the soup, next to the cashews). I keep my eye on it, lest it bolt then, once safely netted in my shopping bag, I return triumphant to the office.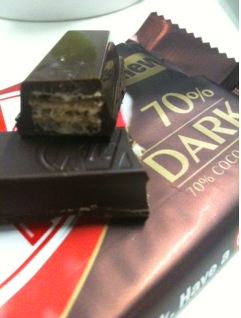 I have to admit, it's not bad. It isn't the height of chocolate culinary cuisine but it isn't cardboard either. It is sweetened perhaps more than you might expect and there isn't as much of a bitter edge as I would have expected. It is actually quite nice. I'd buy another in actual fact.
A lot of people are going to sneer at this but I liked it. It's kind of like a guilty pleasure – I know it isn't Pierre Marcolini but it isn't Feed your Imagination either!