July 17, 2013
Joe & Seph's Thai Style Peanut Satay Popcorn Reviewed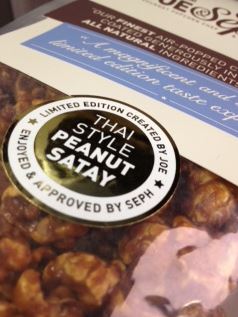 How do Joe & Seph's make peanut satay? I mean, peanut sauce is a delicious addition to chicken satay but how do you capture that combination of herbs and spices to recreate that flavour in a popcorn coating? Well, masters of the UK's best popcorn start with peanuts of course – 29% of the contents in fact. They then add coconut milk and extract to the mix for authentic and enhanced flavour, further combining into the mix soya sauce, garlic powder, dried onions, lime oil, and chilli to create a delicious caramelised coating to the popcorn (of course this mixture is into a base that will help create the caramel coating). They then lovingly pop the popcorn and coat it before distributing it around the UK through shops and their online store.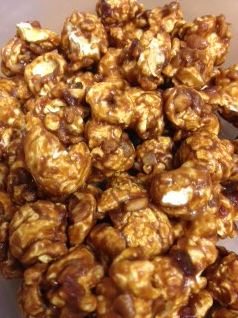 I have really enjoyed Joe & Seph's popcorn over the years. I was absolutely enchanted by their dry style caramel that was almost dusty. It was a welcome break from the chewy caramel on so many products but what was also welcome was the flavour. This goes back to the roots of caramel popcorn with an intensely dark shiny caramel coating. The popcorn is absolutely smothered with the coating, ensuring that every kernel has lots of coverage.
The flavour is absolutely of satay and I have to admit it is slightly strange on popcorn. I thought the mince pie flavour was a bit different but this is extremely different. It's absolutely one for the savoury lovers – those who prefer something a lot less sweet but still indulgently enjoyable. It is really true to satay flavour and even blindfolded you'd know it was satay sop for all those satay lovers who want lunch as dessert, this one's for you.