July 18, 2013
Joe & Seph's Cheddar and Smoked Paprika Popcorn Reviewed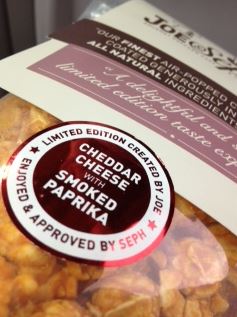 The lovely subdued colour of the popcorn is probably what struck me first. This is no garish fluorescent orange of the popcorn of my youth in Canada where orange was a food colour you could see in the dark. This cheddar cheese popcorn was blissfully subdued, carrying only the colour of the cheese used to make it and not an additional orange kick. Another thing slightly calming the colour is probably the "smoked paprika de la vera" which has a dark red-orange colour. Very dark and almost ochre in colour.
The bag of this popcorn is absolutely crammed full. I'm not sure how they sealed the bag it comes in really as it is bursting with the contents. Joe & Seph's may not be the least expensive option in Wholefoods but it certainly does try and pack all it can into the packaging. It may only be 70g but it is full. The bag is re-sealable but really, are you going to put this stuff down? Unlikely. The colour may be inviting with is subtlety but also the coating of each kernel is amazing. It's as though they had a machine that magically coated each side perfectly. Each kernel seems totally coated with very little white showing through on the rare occasions I can find a bit.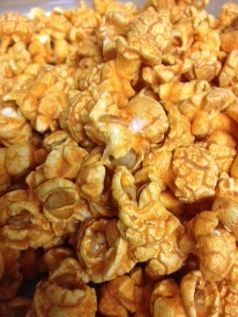 The flavour was quite smoky with the flavour of the paprika coming through distinctly. There was an interesting combination of the cheese and paprika that I can't say I am absolutely in love with but I think it offers something really different. The office also didn't all quite take to it but they all ate it and a few went back for seconds so I think this has wide appeal. I am not the god of taste and the world does not like everything I do therefore although I didn't love this one it was still expertly executed, balanced in flavour and the coating was good and plentiful. Like something a bit different? Pick up a bag and try it for yourself – maybe with some whisky or maybe a Crabbies Ginger Beer!