July 16, 2013
Green Blacks Rum and Chocolate pairings with Young Diplomats
It isn't often that an event is run that I am able to attend where we are told the other side of the story. The perception of some who read this blog is that Green & Blacks have changed the recipe since Cadbury was purchased by Kraft then hived off into Mondelez. That was not what this evening was about – this evening was about nearing a half a million pounds worth of investment in Belize and the Dominican Republic, the chocolate, the farmers and the local rum.
A long time ago now – it seems like years since I was last in the hell that is Taste of Christmas during a public opening time – I had a long char with the Green & Black's folks about their chocolate. I wanted to know where it was at, what was changing and how they differentiated themselves from Cadbury now that the purchase was happening. Were they going to buy from the same place?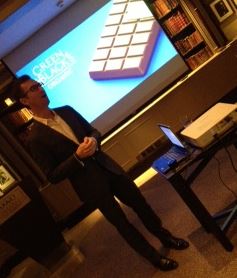 "No, we purchase from the Dominican Republic and our beans are purchased separately and will continue to do so" was the passionate reply from the representative (a Green & Blacks employee – not a "booth babe"). That stuck with me and when, years later, I judged the Academy of Chocolate awards with Craig Sams and he explained to me their "green" core and ethical approach to cocoa (black) purchasing from the DR, I was a little smitten I have to admit. Much like Askinosie, G&B has always been "fairly traded" but they had to pay (and dearly) to get the actual Fairtrade accreditation.
Still, that was years ago and did purchase by Kraft (Mondelez) mean that economies of scale would force them to change? Again, an emphatic "no" from the Managing director of Green & Black's. Not only were they not going to change simply because of a change of ownership, they have, over the years, invested a significant amount of money in their two cocoa producing farm regions in Belize and the Dominican Republic. With new drying areas to prevent mould and storage areas to prevent other things I'd rather not think about, G&B have invested heavily in the areas they purchase their cocoa from – giving back and not just taking. They also give a guaranteed price for their cocoa to the cooperatives and work on five year rolling contracts. These two things mean a significant amount to the various farmers of the regions, giving them security since a cocoa tree seedling takes three years before it will start giving fruit in the DR.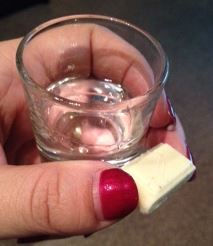 But what about the rum and chocolate pairings? We started with the most amazing 'Tropical Coconut' white rum (from Belize). The terrible crime here is that this rum is not yet available in the UK (this evening was partly about getting it imported into the UK). It was sweet and robust with sweet notes of coconut and almost candy floss coming through. This was paired with the white chocolate which, with this sweet rum was absolutely perfect. The next pairing was '1 Barrel' golden rum (from Belize) with butterscotch. Here I felt that the butterscotch brought out different notes from the rum which started with a sweet toffee and molasses nose, giving the impression of a dark boiled sweet with delightful undertones of adult alcohol and went quite dark with the rum. Then we switched regions to try two Dominican Republic rums, both dark. The first 'Brugal Ron Anejo' dark rum paired with Maya Gold was darker immediately than the golden Belize rum, with a complexity from the way it was made (apparently burning the inside of the barrels and that smokiness really came through with the Maya Gold. It worked together well but was quite different. I enjoyed this more than the golden pairing even though I dislike smoke in my drinks. I was pleasantly surprised by this rum.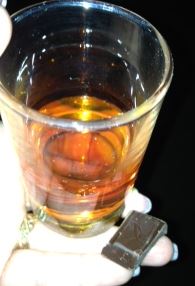 The final rum was my favourite of the evening – 'Brugal 1888 Gran Reserva' dark rum, a heady complex nose of sweet notes, darker almost sherry notes and some caramel notes all greeted me. This was a limited edition rum from the DR which I cannot help but not only highly recommend but feel compelled to force people to buy. This was paired with the plain 70% dark from G&B and it was the perfect pairing to end with. This rum was absolutely gorgeous, dark, deeply complex and delicious. It was smooth on the palate – an accomplishment for anything that alcoholic and was gorgeous neat. This rum was the star of the evening and since I won a bottle I'll give it a full review with purchase points because it is gorgeous!
All in all, an absolutely compelling evening of knowledge, behind-the-scenes photos and descriptions of the process of chocolate making, information of the process and interesting tidbits. The Young (at heart as well as in years) Diplomats program works to promote their respective countries to the world (there are 190 countries represented by 25,000 people in Young Diplomats) and with products like these to promote, I'm glad they do. Come on Waitrose – let's have some more of this gorgeous dark Dominican Republic rum 😉