October 20, 2014
Idilio Carenero Urrutia Superior Chocolate Bar Reviewed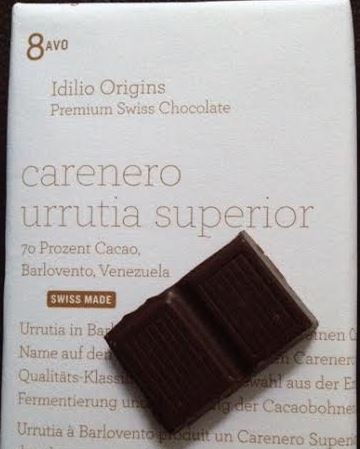 This particular Idilio chocolate bar is only 70 percent and hails from Barlovento, Venezuela.
The Idilo website says: "Urrutia in Barlovento produces particularly fine superior Carenero, a Trinitario variety whose name is attributed to the former port of export Carenero. Superior is a historical quality classification. The selection of the harvest, the Hacienda is based on the optimum fermentation and drying of cocoa beans as well as the purity of the Trinitario."
So crushed roasted cacao nibs (which is just a crushed roasted bean, not a special part of the bean or anything) are blended into the chocolate before molding to add a nice crunchy texture to this chocolate while at the same time adding a touch of earthiness. My biggest trouble with this bar is the chunks of sugar I'm getting as though it was not properly blended. I know the nibs are adding crunchiness but so is some unblended sugar crystals.
Probably my least favourite offering it is still an extremely high quality bar with a smooth texture (so not sure how the sugar crystals were still in there).  If you like a milder chocolate which is high quality and full of nibs, this is the one for you! You can buy it online at www.idilio.ch plus you can read about where you can buy it locally.