February 12, 2012
Hotel Chocolat Love Notes Chocolate Review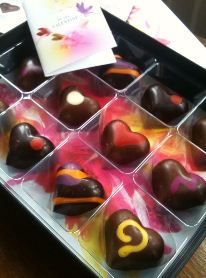 You probably will have read a lot about "Love Notes" from Hotel Chocolat of late as so many of us got a box from the Hotel Chocolat Roast & Conch opening which is a new concept store where they roast, crack, winnow, and refine & conch the chocolate in store.  In fact, you can watch the whole process from start to finish in the shop.  I've tried that chocolate but regrettably these chocolates aren't made with that freshly made coverture.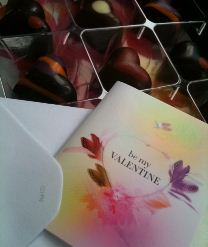 So what can I possibly add? You'll have already read about how you get two of each flavour, that the tray is wraped in cellophane but the top is removable so you can see what alcohol-free flavours they have and also fill out the card.  You'll have read how the box itself has actual love notes beneath the paired chocolates in the box, that these chocolates cost £14 at Hotel Chocolat shops and that today is the last day to order online but you can buy them in shops still.  So I'll just give my thoughts on the actual chocolates and hopefully you'll find something new in here…
Strawberry & Black Pepper – This says that it is a truffle but the way the centre looks it could be a caramel it seems but really it is a lovely ganache. The strawberry is sharp and tangy with an edge of acidity and the black pepper is a bit strong. I might have gone with a softer pink peppercorn but it is a lovely combination that I think you'll enjoy. The dark chocolate is slightly sweet and cuts the ganache slightly, enhancing the black pepper for me.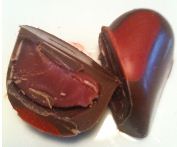 Raspberry Rapture – apparently a white chocolate ganache which could be why it is pink. This ganache is extremely sharply sour and acidic which makes the milk chocolate almost vital to cut through it. I could actually eat that ganache as a pudding without the sweet milk chocolate which, for me, didn't balance as well in my mouth as I had hoped however this is going to appeal to a lot of folk.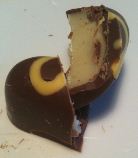 Vanilla Truffle – this is a bit like Wall's vanilla ice cream. The vanilla is strongly pronounced so vanilla lovers are going to have a bit of an orgasm in their mouths. Not a favourite as that vanilla ganache really smacks you in the mouth with an extremely strong flavour and I'm not a huge vanilla fan. But if you like your vanilla ice cream, you'll like these!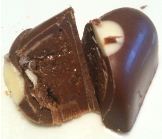 Chocolate Brownie – this is actually a praline with a seriously chocolaty edge and hopefully you all know from reading the reviews that I'm not the world's biggest praline fan. Well, this is OK but I got one with what felt raw sugar crystals in the ganache but it could have been caramelised nuts in small pieces which made it a bit more interesting. It was OK but I wasn't clear why it was called a brownie.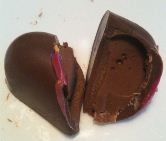 Smooth praline – this is a very smooth praline and as you likely know, I'm OK with the HC smooth praline. I will always choose others over it but I will also eat it as I did with the pearls and oysters (also a good idea for a romantic Valentine's Day treat from HC). So nothing earth shattering here but a good old fashioned standard HC chocolate in a heart shape with a pretty design on the heart.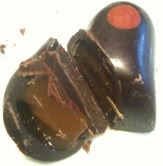 Soft chilli caramel – now this I left for last as the chilli will always ruin your palette and HOLY COW IS THIS A CHILLI CHOCOLATE! Usually I ass sugar to calm the heat when I add too much chilli to my chilli con carne but WOW this is rather strong. The dark chocolate does help calm it a bit but it is still a bit too much for me. I think this is something to have with a glass of something that will take the edge off the heat. *phew*
All in all, a lovely box of choccies but there are so many delicious Hotel Chocolat chocolates that you really can't go wrong gifting them for the holidays!