April 14, 2011
Hotel Chocolat Classic Milk Chocolate Eggs & Soldiers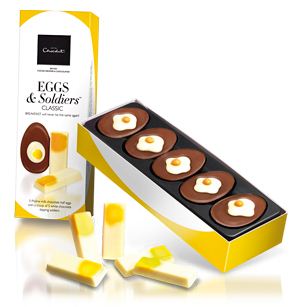 I have to admit, the egg on the soldier looked so realistic that I could hardly bring myself to try these. I know they are chocolate and I know there is no real egg on it but the idea of encountering that sulphuric flavour on chocolate really made me squeamish. In fact my husband couldn't even try one.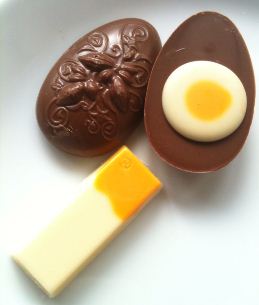 These chocolates are a lot of fun. There are 2 layers in the box – one of eggs and one of soldiers. One unexpected element of these eggs is that besides the topping of white chocolate eggs frying is the cocoa pod design on the back. I mean, who expects that on the back of their chocolates and yet to the inquisitive mind you'll uncover this fun embellishment. You get five of these mellow milk chocolate, praline-filled half shells which topped with that white chocolate fried egg in one layer. This layer has underneath it five creamy white chocolate soldiers, already dipped with a dollop of creamy chocolate yolk which is a bit realistic looking. It is solid white chocolate with a bit of colouring so it isn't real yolk…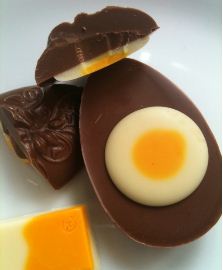 The flavour is typical Hotel Chocolat and in that way we know it is inoffensive. You can smell the praline and though it isn't obvious in this picture where I cut through one of the eggs, the praline isn't too strong and so even I liked it. It did look like solid milk chocolate at first but it was also too easy to cut through and smelt too nutty to be solid milk chocolate. I can't tell where the milk chocolate ends and the praline begins but it is absolutely all praline in my mouth.
I think these are a great novelty item and as usual the Hotel Chocolat chocolate is really nice and the praline isn't offensive. The white chocolate is pretty standard and so there isn't anything that really stands out but that is both good and bad.