October 25, 2012
Fudge Fancies Fudge Mince Pies Reviewed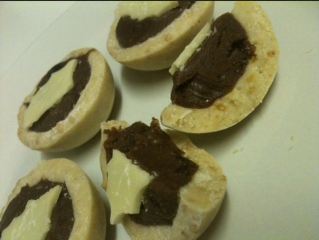 Fudge Fancies are all about pushing the boundaries. They make fudge like no one else – or actually I should say Michael makes fudge like no other. Michael has apparently always loved cooking for family and friends and whenever people came round to his house they were always fed, whether it be a bacon sandwich or a three course meal with all the trimmings –  the only proviso being that they had to try his latest culinary experiment, various flavours of gourmet fudge!
These may be 100% fudge but wow – they are a lot like mince pies. The white fudge exterior has an edge of cookie buttery crunchy goodness to it – making it taste more like a pastry cup than fudge but it is fudge. I cannot believe it is fudge! Seriously! Now the interior is a soft chocolate fudge – I can believe it is fudge but it's got FRUIT in it like a real mince lie! And spices!
I'm telling you, these may only be at Saltburn and Middlesbrough markets but I recommend contacting Mike at Fudge Fancies and DEMANDING to be able to buy 6 or more for Christmas. I'm serious – forget mince pies (well, maybe not those amazing Aldi mince pies – you can buy those) and just buy these – the are small morsels of amazing deliciousness and you'll seriously thank me for pointing out this bit of fudge joy to you.
Go and CONTACT FUDGE FANCIES HERE!