May 4, 2012
English Cheesecake Company Chocolate Truffle Profiterole Smash Cheesecake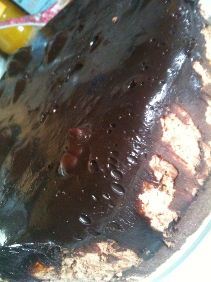 When I was asked by the English Cheesecake Company if I would review their cheesecake I absolutely jumped at the chance. I mean, who wouldn't want to review cheesecake?
The cheesecake they sent was a truffle profiterole cheesecake. Now besides being huge, this was absolutely amazing. The topping was a lovely sticky chocolate topping which was deliciously chocolaty but not too thick and not too sweet. You can see the profiteroles poking through the top of the cheesecake.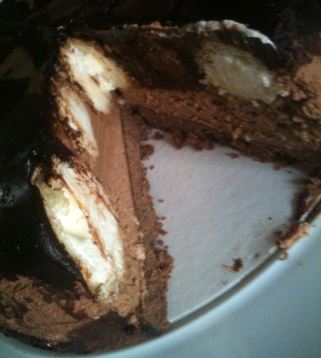 The base of the cheesecake is relatively thick but as it warms it does go flaky and isn't too bad. It is crunchy and chocolaty and slightly crumbly just like a good cheesecake base should be. The cheesecake itself has profiteroles with the thick cream filling and light choux pastry all through it and as you can see they are studded through the whole cheesecake. I don't think you can slice this cheesecake thin enough for it to not have profiterole in it.
The cheesecake itself is light and has just the right balance of chocolate flavour. The profiteroles give it just the perfect balance of thick cheesecake and light cream. I really did not expect to enjoy it as much as I did. I'm used to having to cut small pieces of cheesecake because they are just too heavy and too dense and you have to take small bites. Given the massive size of this I was concerned but the profiteroles just balance everything out perfectly.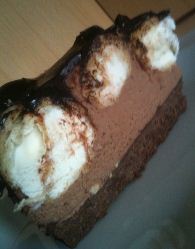 These cheesecakes can be delivered to your home. They come in a Styrofoam box with cool packs and is frozen so it can pop straight in the freezer for later or in the fridge to defrost but always arrives in perfect condition. The paper protects the cheesecake, the cheesecake itself came in perfect condition and wow – it is the perfect size for a dinner party with a *lot* of friends.
You can buy one of these beauties online at the English Cheesecake Company website.