May 15, 2015
Elderflower Crunch Drizzle Loaf Cake Recipe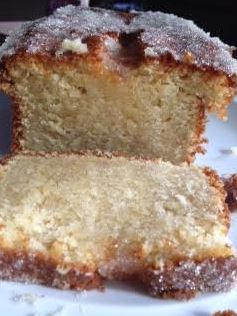 Husband is not as much of a chocolate fan as I am so I try and bake things free of chocolate every once in awhile 😀 This is a recipe I found and it took me 4 tries to get right so I've changed it from the original here.
Ingredients
For the loaf cake
175g softened butter (plus extra for greasing)
175g golden caster sugar
3 eggs
140g self-raising flour
85g ground almonds
1 tbsp elderflower cordial
1 tsp vanilla
Dash of salt
100ml milk
For the elderflower drizzle crunch (do not make this until you are ready to use it!)
4 tbsp elderflower cordial
4 tbsp white or golden granulated sugar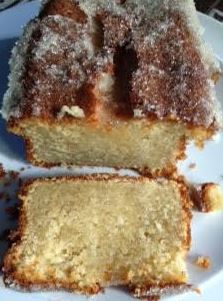 Method
Heat oven to 160C or 140C for a fan oven
Grease and line a 2lb/900g loaf tin with baking parchment.  I find I have to do a lot of cutting and folding but it is worth it.
To make the loaf cake batter, beat the butter and sugar together with an electric whisk or whatever but a lot until the mix is light and fluffy.
Beat in the eggs one at a time, beating each a bit first then fully beating in to the batter.
Add the flour and almonds.
In a measuring cup first add the tablespoon of elderflower cordial and teaspoon of vanilla. Add milk to 100mL measure. Lastly add a pinch/dash of salt and whisk. Add this mix to the batter and whip in.
Pour into the tin and bake for 45-50 min until golden, risen and a skewer poked in the center comes out clean.
As soon as the cake has come out of the oven, prick it all over with your skewer. This is going to facilitate the drizzle flavour getting in to the cake. Husband loves this so much I use the meat thermometer to poke the holes as widely as possible.
Mix together the cordial and sugar, then pour all over the cake. You are looking for the sugar to still be granular as well as flavoured. Don't let it dissolve too much!
Cool in the tin with all the liquid and cake and everything, then carefully lift out and enjoy!