May 14, 2015
Godiva Launches Ice Cream, Weather Turns Warm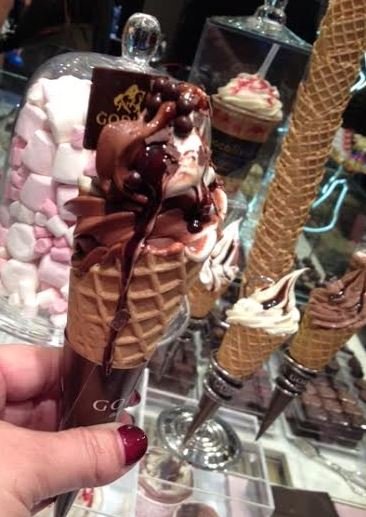 Coincidence? I think not. Godiva is bringing back its Soft Ice Cream just in time for summer. However in a stroke of exclusivity, it's only us Londoners wot get it. And I also went to the launch evening for this delightful summer staple (staple for *me* – I dunno about the rest of the planet).
Godiva understands the powerful allure of the sexy dark chocolate ice cream and has taken it to the next level by drawing on all its chocolate expertise to create a small but perfectly-considered soft ice cream collection. The individual components all complement each other however you mix and match them.
Everyone can create their own bespoke Soft Ice Cream creation to order, from the new Godiva Soft Ice Cream Menu. Start by selecting one base – either a delicious waffle cone, dipped chocolate waffle cone, small cup or large cup (dipped chocolate waffle cone FTW). Then choose either their decadent vanilla or intense dark chocolate Soft Ice Cream or a combination of both which is my personal favourite. I find that the chocolate lifts the vanilla and the vailla calms the intense chocolate of the dark chocolate ice cream. Then finish the whole thing off with an extra-special topping – selecting from milk, white or dark Crispy Pearls, chocolate syrup, chocolate flakes or bresilienne (an exquisitely nutty caramelised hazelnut crumb).
This is one of those things that is impossible to share 😉 Godiva's Soft Ice Cream starts from £4.50 but let's face it – life is about the extras so go crazy!