May 12, 2015
Selfridges Leading the Foodie Trend Charge with the Cruffin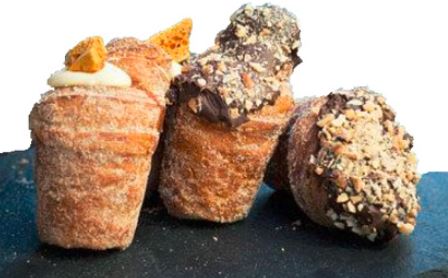 Made by Foxcroft & Ginger in their London bakery, the Cruffin is set to top the hybrid pastry trend with this mouth-watering, moreish creation. They are made using a secret sourdough croissant mix, which is carefully hand-folded using the best French butter and instead of using a traditional croissant mould, the pastries are then baked into a muffin shape, allowing for a generous space inside for fillings. Dusted with cinnamon sugar, the Cruffins are crunchy and flaky on the outside and wickedly soft and gooey on the inside. Goodness I want one RIGHT NOW! They have a bunch of flavours at Selfridges to trippy on over as they are only £2.79 each!
Can't do gluten? Well, after opening a small cake business in Australia Serena Whitefield returned to London after 8 years of traveling and baking and decided to launch Pearl and Groove whose cakes are all gluten free. The cakes have almond flour instead of wheat, making them light but moist. They are absolutely delightful and in a wide array of flavours if you have gone gluten free you don't have to go cake-free as well 😉 These are £3.49 per cake but if you splash out a bit, you can savour a lot.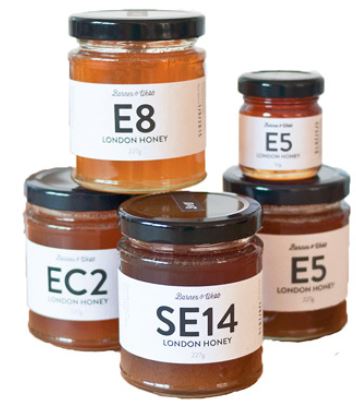 They also have postcode honey which is raw honey straight from the hive in that area. There are 30 hives in Barnes & Webb's network which are mainly in east London. Each post code has its own distinctive flavour and at £14,99 each they could make a delicious gift.
Of course, no foodie trend would be complete without some chocolate and Selfridges now has Ocelot Chocolate which I tried during judging the Academy of Chocolate awards. Ocelot Chocolate was set up by young chocolatiers Matt and Ish, who create handmade confectionery in their workshop in Edinburgh. Formerly chefs, they source exceptional chocolate from ethical and exhilarating sources such as Virunga National Park in Eastern Congo and Piura Valley in Peru where a rare type of white cacao has been brought back from the verge of extinction. They take this base coverture and add inclusions to create distinct flavours like Fig&Orange, Raspberry&Vanilla, Bee Pollen&Mango and more.
If you are a foodie, Selfridges is the only place to be this May.