May 21, 2015
The Peninsula Hong Kong's Maître Chocolatier Is Named "Best Belgian Chocolate Master" at the World Chocolate Masters Competition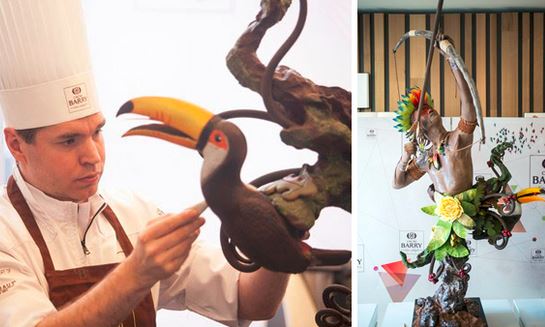 Judges at the Belgian heat of the World Chocolate Masters competition recently officially confirmed what guests of The Peninsula Hong Kong already knew: that the hotel's Maître Chocolatier Marijn Coertjens is the world's "Best Belgian Chocolate Master". One of only five chocolatiers selected to compete in the Belgian qualifying round of the prestigious competition, Coertjens bowled an esteemed jury over with a selection of his captivating confectionary creations to claim the coveted title and a place in the World Chocolate Masters final in Paris in October.
To win the competition, contestants were challenged to create four chocolate items in just eight hours in the categories of "Best Moulded Praline", "Best Chocolate-to-Go Concept", "Best Cake of the Day" and "Best Chocolate Showpiece". An international panel of 12 expert judges then decided the results for each category, as well as awarding the title of Best Belgian Chocolate Master to the standout competitor.
In addition to taking first place overall, Coertjens won two of the individual awards – for "Best Chocolate-to-Go Concept" and "Best Chocolate Showpiece" – and would almost certainly have claimed "Best Moulded Praline" too if the World Chocolate Masters rules did not preclude any one competitor winning more than two individual awards.
Taking the competition's theme, "Inspiration from Nature", as his starting point, Coertjens chose to base his creations around the culture of the Kayapó people, an Amazonian tribe who live in harmony with the Brazilian rainforest that they call home. The Kayapó rose to worldwide prominence in 1989 when they protested against the Brazilian government's plans to dam the Xingu River, a project that would have flooded large sections of their traditional homelands. Despite global media.
coverage and the public support of celebrities such as Sting forcing the government to abandon its plans, the Kayapó's way of life continues to be threatened by similar projects to this day.
Paying tribute to the Kayapó, Coertjens created an astoundingly detailed chocolate statue of one of the tribesmen taking aim with his bow and arrow. The only thing that was perhaps even more impressive than the showpiece itself was the fact that Coertjens had just three hours to assemble it while also preparing his pralines, an incredible feat of speed, skill and agility. The pralines, which were comprised of Belgian honey, local spices and chocolate, also referenced the rainforest with a subtle green leaf motif.
In the "Best Chocolate-to-Go Concept" category, Coertjens took an Asian favourite and gave it his own unique twist with the innovative "Sweet Noodle". This delightful delicacy featured a combination of passion fruit, cashew nuts and chocolate, all contained in an eye-catching box featuring the silhouette of an Amazonian bird, neatly linking Brazil and Coertjens' adopted homeland of Hong Kong.
Having taken Belgium by storm, Coertjens will be looking to conquer the world in October, when he travels to Paris to compete for the title of World Chocolate Master.