November 23, 2011
Dick Taylor Dominican Republic Dark Chocolate Review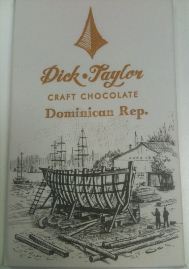 Dick Taylor calls themselves "small-batch chocolate maker".  They are using "fairly traded organic cacao".  They are then hand-roasting (as in they are not relying on an automated process – they aren't holding pans over fires!) beans then cracking, winnowing, stone refining, (presumably conching and tempering) and aging the chocolate in their Californian base.  They remind me a lot of Soma only this chocolate is available to mail order and the range is extremely focused.
While I'm not sure what a "ficility" is, this has been produced in one 😉 The move in the chocolate world for small 'craft' or artisan chocolate makers is an interesting one.  As palettes become more refined, the consumer is starting to demand a better quality chocolate.  Gone are the over-fermented beans if Hershey's and in are makers such as Dick Taylor, Askinosie, Tcho, Rogue and others creating chocolate from a bean fermented closer to a European palette and creating something magical with those beans – a rich deep chocolate that extols the virtues of the beans, rather than the maker/label.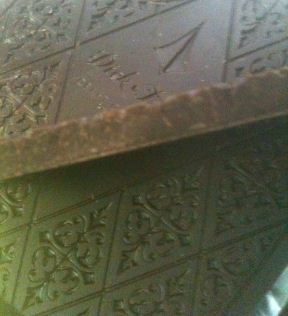 This bar is a 74% but that number isn't quite as interesting as what is inside.  I've said it before but it bares saying again – I love the wood-block printing on the wrapper. It looks both artisanal and professional at the same time.  The single image creates a recognisable brand and the different colour printing means you immediately know what bar you have chosen.
The initial scent is of berries and ripe fruit with a tinge of woody spice.  This is the flavour of the initial note profile as you let the chocolate start to melt in your mouth.  As it melts quickly in your mouth the flavour evolves into something earthier before finishing cleanly with only the barest hint of fruit left behind.  Extremely clean melt in my experience, with a light lingering fruit before vanishing.
This is a bar I'd want to sit and savour.  I could easily sit down with a good book and slowly enjoy this bar, bit by bit. With there being no squares, you are free to break off as large or small a piece but I hope before breaking you'll admire the stunningly detailed mould and appreciate the difficulty in pouring a well-tempered chocolate into something and tapping out bubbles to create something as perfect as this bar.
Whatever reason you may have for wanting to by a bar of chocolate, make it one of the Dick Taylor range.  I love this chocolate. It melts smoothly, tastes complex and finishes cleanly. You'll want to buy all the small range once at least and once you have, you'll be addicted for life.