February 22, 2016
Creme Egg Bars With a Zesty Twist Easter Recipe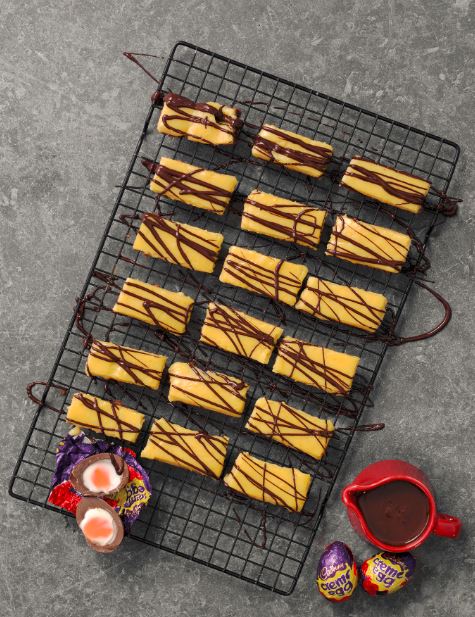 These look fricking amazing! They are fussier than I usually like but I think it's worth it for something a little different this Easter.
Makes 35 bars
Prep time: 25 mins
Baking time: 15 mins
Ingredients:
For the base:
•    2 tablespoons cocoa powder
•    100g digestive biscuits
•    2 tablespoons butter, melted
For the curd:
•    2 tablespoons cornflour
•    150g caster sugar
•    4 eggs
•    2 egg yolks
•    250ml orange juice, freshly squeezed
•    Zest of 2 oranges
•    85g butter
For the Cadbury Creme Egg drizzle:
•    1 Cadbury Creme Egg, crushed
•    2 tablespoons double cream
Method:
1.    Line a square 23cmx23cm/9 inch tin with baking parchment, covering both the base and sides. Preheat the oven to 160oC/140oC fan/gas mark 3.
2.    In a food processor, blend the digestive biscuits and cocoa powder together until fine crumbs form.  Pour in the melted oil or butter and pulse until the mixture starts to come together. Press into the base of the tin and set to one side.
3.    In a large saucepan, whisk together the cornflour, sugar, eggs, yolks, juice and orange zest. Stir in the cubes of butter, and then heat on low. Whisk the mixture constantly until the butter melts and the curd thickens slightly, about 5 minutes.
4.    When the mixture is thick enough to coat the back of a spoon, pour over the base. Use a spatula to smooth over the top, and then bake for 10-15 minutes. There should be a slight wobble in the centre when you get the bars out of the oven. Allow to cool completely at room temperature, and then store in the fridge.
5.    To make the crème egg drizzle, put the crushed crème egg and double cream into a small heatproof bowl over a pan of boiling water. Heat, stirring all the time, until the crème egg is fully melted and a thick chocolate sauce has formed. Transfer into a piping bag and drizzle over the cool bars.
Recipe credit:
This recipe was created by egg-spert baker Martha Collison using the delicious Cadbury Creme Egg. For more of Martha's recipes visit www.facebook.co.uk/CadburyCremeEgg.