January 2, 2015
Coeur de Xocolat Haiti 75% Dark Chocolate Bar – Helping the people of Haiti through Chocolate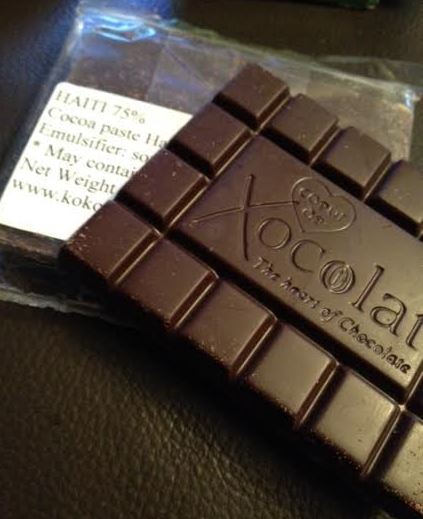 David Greenwood-Haigh is the brains and heart behind Coeur de Xocolat. A professional chocolatier, he has been working in the food industry for more than 35 years with plenty of experience in chocolate. Yorkshire born, David is a Master Chef member of the Craft Guild of Chefs. He has a lifelong love of food, and a creative passion and flair.  Trained as a chocolatier, David has also recently written his first book – a Haitian recipe book, and is now planning a chocolate book.
David is passionate about helping people as well as ethical chocolate so when he started his company Coeur de Xocolat he made sure to source cacao from Haiti and send proceeds from his cookbook there (so you should email him to buy it 😉 ). So of course he would choose to make a Haitian chocolate to support the country.
Haiti suffered a magnitude 7.0 earthquake in January of 2010 and they are still rebuilding. Haiti is the other side of the island housing the Dominican Republic, home of some of the best cacao and coffee n the world. I hope one day to be able to visit the cacao plantations in the DR as the chocolate is so good. There are similar conditions in Haiti but they have not been hugely visible exporters of cacao until relief efforts were undertaken in 2010. As Haiti was trying to rebuild so their cacao was featured as a separate element. Having tried it from Thorntons it was OK but not the complex chocolate I prefer.
As David wanted me to, I agreed to try the Haiti chocolate he kindly gave me.  The nose is of a robust, if uncomplicated, deeply chocolaty chocolate. The nose hints at a bit of chalkiness but mainly deep chocolate notes. There is a bit of nuttiness on the palate like hazelnuts and a lots of coffee (not that coffee was added – it is a feature of the bean). There is a note of the roast in there as well which I know some people really want. At 75% it is surprisingly not bitter though there is a hint of acidity. The finish also hints at a little bit of yellow fruit.
Overall this chocolate is quite different and unique from the Dr which boasts red fruits and yet it is from an area so close by. You can buy this particular blend from Kokoa Collection (you don't have to make it into hot chocolate).