March 1, 2010
Cinnamon chocolate wafers from Prestat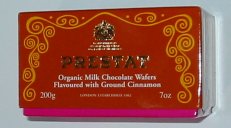 There is too little cinnamon used in cooking and even less in chocolate so it was with a particular amount of delight that I opened the box of Prestat organic chocolate cinnamon wafers.
Prestat has the most amazing packaging and when you consider the box arrived without any damage, it is a testament to their thoughtful design.  The burnt orange colour offset with the gold makes this a beautiful box.
Inside is a row of chocolate wafers all lovely and ready to be tasted which I did most eagerly.
One thing I'd like to point out here is the ingredients list of this organic milk chocolate and cinnamon wafer I have in my mouth as I write this (I couldn't stop eating them): organic cane sugar, organic cocoa butter, organic full cream milk powder, organic cocoa mass, organic cinnamon, emulsifier, soya lecithin, natural vanilla.
It is so wonderful to get such a lovely organic chocolate.  The flavour of the milk powder does overwhelm the blended taste somewhat which disappointed me a bit.  The sweetness of the sugar overbalances the blend and leaves a sweet aftertaste.  I'm not sure if it was to counterbalance the cinnamon or chocolate but it was a bit too much.
I love cinnamon and for that reason I've been enjoying this chocolate but I have to admit that I have some reservations.  I've given this a "great" rating but not "top notch" as I feel the after taste and slightly strange flavour the chocolate is a bit of a drawback.