August 13, 2014
Chocolate Tasting Workshop at Loncon3 Worldcon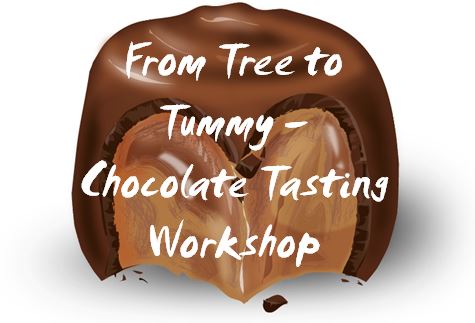 I will be running a chocolate tasting workshop at Loncon3 on Sunday at 13:30 in Capital 9. I'll be walking everyone through how chocolate is made, where beans come from, the different types of beans, and then teaching everyone how to taste chocolate like a pro.
We'll be sampling seven different chocolates as well as trying a roasted cocoa bean. Almost all the chocolate was donated to the tasting by five different chocolate companies and another donated the roasted beans. I'm really extremely grateful to all the chocolate companies for donating the chocolate and I hope I'll convince all of you to buy better, more expensive way more ethical chocolate.
As part of the talk, I'll talk about why I don't feel like Fairtrade is necessarily the best deal for farmers, the chocolate makers working to change and why bean to bar is the only choice you should be making from here on forward.
To back up my assertions I will be bringing with me a huge array of chocolate and a cocoa bean for everyone, kindly donated to me by the chocolate makers themselves.
Original Beans have sent across one of each of their bars with some miniatures which I might snaffle to use at another event. They have also supplied Beni Wild buttons and Piura Porcelana buttons so that everyone is able to try two of their chocolates which are completely different.
Willie's Cacao is also supplying two very different chocolates – he has sent through his famous Rio Caribe and some of his equally famous Peruvian chocolate. Both are so different he wanted the audience to be able to taste the difference between the two bars – we are lucky!
Askinosie Chocolate kindly donated some of their Tanzanian bars for us to try which will be a real departure from the previous two. I prefer the San Jose del Tambo but this is a stunningly unique bar.
Pump Street Bakery (yes bakery!) is supplying some of their uniquely delicious Madagascan. I'm a huge fan of their Venezuela but this is a gorgeously sweet and silky smooth bar for people to try.
I've also got Panamanian chocolate from Duffy and roasted Madagascan beans from Paul A Young – I cheated and tried one so I could create the slide for them – WOW! You guys are in for a treat!
Remember the room change – Capital 9 at 13:10 on Sunday. Sign up at the info desk right away and even if you don't get on the list, loiter with intent – you never know as I might have extras 😉