December 19, 2014
The Chocolate Society Christmas Collection – Buy it NOW or you'll be sorry!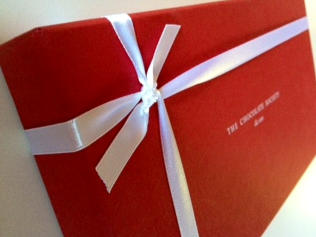 It is a rare occasion that I am gifted with chocolate from The Chocolate Society. Despite offering to review things when they wished it, they have never sent me anything – UNTIL NOW and boy was it worth the wait.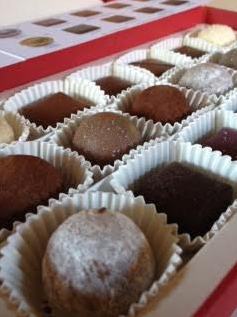 Of course, the chocolates arrived when I was busy posting a back catalogue of work *and* had a stonking cold (which has still not shifted) and so I had a challenge to review these chocolates however CHALLENGE ACCEPTED so please do note that as I review the collection I am fighting a runny, stuffed nose and so my notes will be skewed slightly.
First off the collection is of the freshest of truffles. This means if you buy now when I am writing they will likely go off before Christmas so I'm holding this review to the optimal time before the holidays so they get some great exposure (when I finish the pre-scheduled things and so have a lull on the blog) and yet is the right time for you to go get some for yourself. So NOW IS THAT TIME PEOPLE!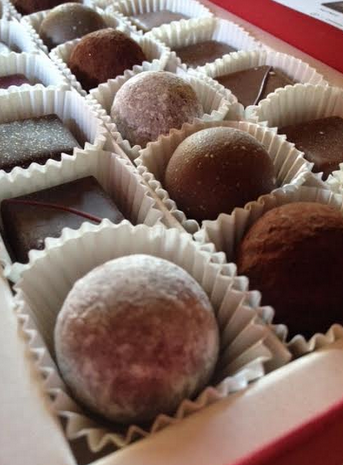 As a mail order only company, generally you're going to have to order from them HERE at https://www.chocolate.co.uk/ so just pop over NOW and place your order. As this will be on the blog for a few days, I mean *NOW* as in forget reading on and just go and order!
But to the chocolates. I did enjoy then though I expect I would have enjoyed them more had I not been suffering from a cold. I hate being sick but trying to review chocolates *and* being sick is miserable because I know they are amazing but my taste is blunted >_<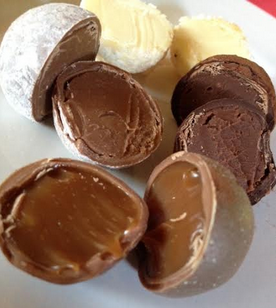 These four somewhat alcoholic truffles are amazing. They are brilliantly boozy – so much so that I can tast the booze in almost all of them. The coconut snowball was tough for me but the grand marnier one was absolutely chock full of booze. The Christmas tree caramel tasted lovely but I'm not sure what I was supposed to be tasting and without my nose all I know is that it was a lovely caramel >_< and of course the champagne truffle was DIVINE! Oh ya – I could taste that!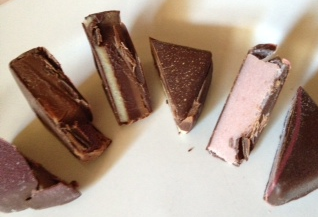 The next batch are what I would call more traditional Christmas flavours – otherwise known as the bottom layer of the box 😀 The Nutmeg disappeared before I got a shot because OOOO SCRUMMY! The mulled wine was one of the nicer ones I have tried and I could taste it through my cold. The cinnamon, nutmeg and other spices clearly coming through the desperate cold I have. One of the best I've had! The morello cherry and cranberry was less clear through my cold but I did get a lovely fruitiness with a bit of a cheek tingle of a touch of acidity – FRUITY! The Amaretto Affogato was so coffee that it was absolutely AMAZING. WOW! It was like I wasn't sick with a cold! OMG I want a box of just these – PLEASE! This is absolutely amazing and I can't express in words the creamy texture and intense coffee *without* burnt notes. It was simply phenomenal and it will haunt me to the end of my days. I must have more!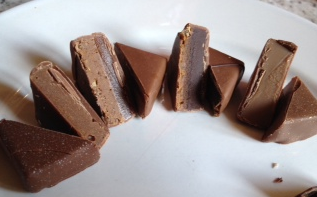 The top level in the box was a very interesting mix. Of course I could taste the Gingerbread – that was easy and delightful. In fact I think the ginger is helping clear my nose! It was like a gingerbread cookie dipped in milk – WOW! Winter Apple was also nice and spicy. A definite cold-killer, I could taste the apple compote and the cinnamon quite clearly. Gorgeously like apple pie in a chocolate. The Caraway Pealine was a bit odd for me. I could taste it and I love caraway but as a praline after so many ganaches and with it being so powerfully flavoured it would probably be the one I offered around (after eating all the others 😉 and then of course we have the Christmas Cracker – a praline with popping candy. I absolutely love the idea but again it is a praline in a ganache-heavy box. I'm still feeling popping… yep… still popping!
Overall a masterfully executed collection. The flavours must be bold to cut through my stuffed nose the way they have and I absolutely adore them. So I URGE YOU to pop over to The Chocolate Society and buy a box for now and then pre-order a box for delivery in the new year because OMG DELISH!