October 16, 2013
Celebrate House of Dorchester 50th Anniversary and WIN a Money-Can't-Buy Exclusive Chocolate Collection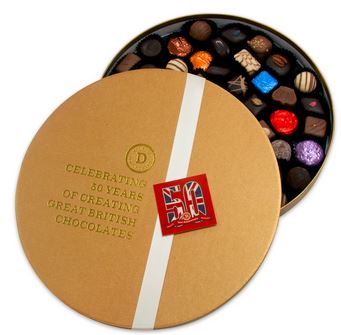 Hey everybody – It's Wednesday and you've booked at the Pullman Hotel for their limited edition Valrhona Afternoon Chocolate Tea to have the barman kneel at your table and mix you a martini (or maybe you opted for champagne or hot chocolate and so didn't get the kneeling). Now you're wanting to know – what could possibly be better than winning one of five pairs of tickets to Salon du Chocolat or afternoon tea at Pullman and here I am with the lovely folks at the House of Dorchester with a money-can't-buy-you-choc amazing massive box of chocolates giveaway!
It's been a year of British celebrations: the Royal Birth, Andy Murray winning Wimbledon and … House of Dorchester, a truly British chocolatier reaching its 50th anniversary milestone!  House of Dorchester has always been proud of its quintessential British roots (the company counts John Lewis, Waitrose and Selfridges amongst its customers), and enjoys an enviable reputation for the creation of deliciously indulgent, hand finished luxury chocolates.  The company is British owned and physically based in the UK and all its superior chocolates are crafted at the purpose built factory in Poundbury, on the Duchy of Cornwall's Estate in Dorchester.
To mark its special 50th anniversary, House of Dorchester has created a beautiful limited edition collection of 50 sumptuous chocolates.  This unique box of exquisite chocolate delights is not available on the high street or online, but we've got one to give away to a lucky chocolate connoisseur!  Simply answer the question below in 10 words or more:
Where are House of Dorchester chocolates manufactured and what makes them special TO YOU?
Entry is by Rafflecopter. You *must* leave a  comment to enter then you can unlock the other options to win. We strongly recommend following HODchocs on Facebook and Twitter as it gets you additional entries and therefore chances to win!
House of Dorchester products are sold in a wide range of supermarkets, fine food stores, delicatessens, independent retailers, farm shops, garden centres and online via www.hodchoc.com
a Rafflecopter giveaway