October 17, 2013
Chocolate Afternoon Tea at the Pullman Hotel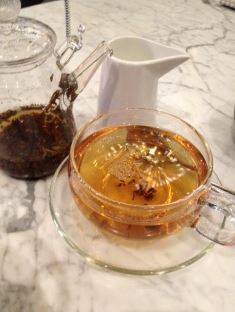 I was not familiar with Pullman hotels before they contacted me and asked me about reviewing their chocolate afternoon tea. I did a bit of research and they are a upcoming but very nice hotel chain. If the people I saw were any indication, the hotel appeals to businessmen and musicians alike but the vibe is definitely refined, classic and relaxed.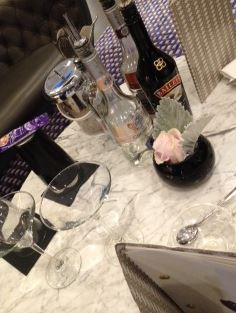 The Golden Arrow bar is in the lobby. When I say "in" I actually mean it *is* the lobby but that doesn't mean that it doesn't have a separate area. It is positioned in front of the restaurant area, removed from checkin and because the whole area is so well designed, you never feel crowded and you never feel rushed. You get to people watch unobtrusively while rock stars and top business gurus all pass by you.
The tea itself was an absolute joy. From the moment you arrive, you'll have your reserved table waiting (if you booked but feel free to drop in) for you and your personal private bar set up. Yes, your personal bar. If you opt for the alcoholic version, they will make you a chocolate martini in front of you as you watch. Yes, that is a barman kneeling on the floor at our feet making me a martini (my guest had a hot chocolate).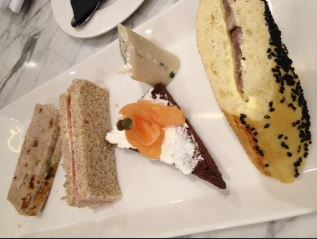 Once the martini is made, the sandwiches arrive soon after. As you can see, they are small, easy to handle but not tiny. They have just enough to them to almost fill you but still leave room for dessert (as it were). I loved the nigella seed roll with the roast beef but I think the salmon was most interesting, on toasted rye with cream cheese. Absolute flavour sensation. The salmon itself was absolutely delicious. I never would have believed in grades of salmon but this taught me that there are, indeed, superior salmon. Pullman has superior salmon.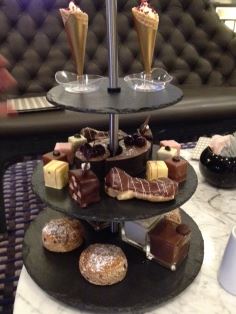 The tower of deliciousness came and we gasped. It was beautiful with three slate plates but besides the cake stand being beautiful, the delights on it were perfect. For those of you who watch Great British Bake Off and remember por Glen's to large canapés well these were absolutely perfect. You could opt for two tiny bites of the petit fours or you could pop a whole one in your mouth without looking like a chipmunk. They were made with Valrhona chocolate and the quality of the chocolate was able to shine through thanks to the skill of the chef. My goodness I wanted to marry him at moments while I was eating. The boozy chocolate mousse-y thingies were divine and the little cakes were melting in your mouth and the scones were just out of this world.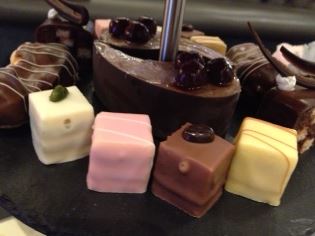 I cannot simply heap praise though as there were some small snags for the uninitiated. If you don't like pistachio, watch for the one with what might be a pistachio on top of it as it is EXTREME pistachio. That was slightly unexpected by my companion and she really didn't like it. As she was pregnant though she absolutely loved and appreciated the non-alcoholic options for starting drinks of a hot chocolate which she opted for. She also appreciated that if you wanted, you could get crème de cacao in your champagne (thought it'd taste weird).
Overall you are going to love it if you love chocolate. If you, like out barman, are not fussed about chocolate, opt for the regular afternoon tea 😉
The PR stuff below but to book, contact Marcha Workel at the Golden Arrow Bar and Lounge on 02076669080
To celebrate Chocolate Week (14th-20th October), the Golden Arrow Bar and Lounge, located in the Pullman Hotel at St Pancras, has created a seriously indulgent Chocolate High Tea for those who appreciate the finer things in life.
Available throughout the week, between 2.00pm and 6.00pm, this luxurious treat will excite even the most ardent of chocolate lovers with sweet creations using genuine Swiss Felchlin Grande Cru couverture made from the finest cacao in Venezuela.
Sample an array of chocolate royalty; from chocolate éclairs filled with lavender cream and white chocolate cones overflowing with freeze dried raspberries to chocolate covered teardrops of sweet kirsch cherries. Opt for a twist on the traditional and try the crumbly chocolate scones served with a good spoonful of jam and Devonshire clotted cream alongside a selection of chocolate petit fours and the devilishly good white and dark chequered chocolate slices.
To complement the sweet stuff, a fine selection of sandwiches are available including Uig Lodge smoked salmon and cream cheese; sliced cucumber on walnut and sultana bread and classic, egg and cress roulade. To drink, a selection of fine Chinese loose-leaf teas are available from Earl Grey Yin Zhen and Jardin Blue to Darjeeling Steinthal and Jasmine Yin Zhen. Or for the utmost indulgence upgrade to a glass of Laurent Perrier, topped with or without chocolate bubbles.
The Golden Arrow limited edition Chocolate High Tea will be showcased throughout Chocolate Week (14th-20th October), from £25 per person for a selection of savoury and sweet delicacies alongside a pot of tea or cup of coffee.
Golden Arrow Bar and Lounge's Chocolate High Tea is available throughout Chocolate Week from 14th – 20th October, between 2.00pm and 6.00pm each day.
Prices are £25 for Chocolate High Tea and £35 per person for Champagne Chocolate High Tea (or martini).
For reservations contact Marcha Workel at the Golden Arrow Bar and Lounge on T: 020 7666 9080