July 4, 2014
Cadbury Keeps Sharing the Joy WIN a Fashionable 2.2kg Chocolate Shoe!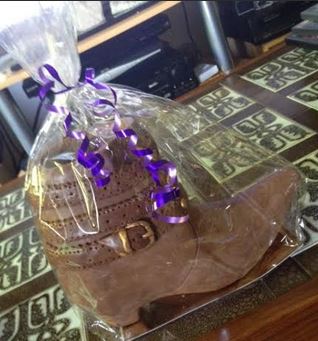 With nearly half of the UK (43% – SRSLY!) claiming they'd choose shopping for fancy footwear over playing sports or relaxing with a book (can you blame them?), Cadbury took it upon themselves to open the first ever pop-up Joy Boutique. The boutique showcased a selection of the UK's most joyous footwear, each masterfully created by the Cadbury food artist. Prudence Staite has dedicated 860 hours carefully hand-sculpting each chocolate shoe for this one-off display. Yes, you read that correctly EIGHT HUNDRED AND SIXTY HOURS OF WORK IN CHOCOLATE! And they are SOLID – no hollow shoes. These things weigh a hefty amount including the 2.2kg masssive boot I'm giving away thanks to Cadbury!
With celebrity fashionista, Myleene Klass opening the Joy Boutique, the one-off pop up went down a storm with over 1000 people walking through its doors over the two day period. Sadly, it is now closed but YOU now have the chance to win one of the chocolate creations which was available through the shop – GET EXCITED PEOPLE! It's 2.2kg of solid chocolate and could be coming your way if you're lucky!
I got the chance to ask Prudence about her involvement in the shop as part of this promotion:
How difficult was it to create so many unique shoes out of chocolate?
It was hard to know where to start, as there are so many types of shoes and everyone has different tastes, so we did a lot of research into the various styles of shoes that could potentially work with chocolate. I wanted to cover all sorts of types of shoes from classic men's Chelsea boots, to strappy sandal heels and even chunky wedge trainers. We did not know how long it would take us to make them all, so we worked day and night to create the chocolate shoe collection. We added zips, buckles, bows, stitching, laces, all made from milk, dark or white chocolate to add life like details. The men's shoes were one of the harder styles to create, as they needed to have a lot of hand sculpting, to get the shape and soles correct.
What inspired each of the designs – did you model them after your own closet collection?
I love shoes, and have a large collection so I gathered one of all of my shoes together and created a 3-d mood board so we all had real shoes to gather inspiration from and get the shapes right.
I did not want to create designer shoes, I wanted to create our own shoes. I loved the fact that we were able to create leather finish and a suede effect with chocolate. I like spotty bows and buckles and these looked really nice in chocolate too.
Was there a pair you couldn't bear to part with?
My favourite shoes were the wedge court shoes, and the wedge trainers. I was not sure that the zipped wedge trainer would look nice, as it is certainly nothing I would ever wear myself, but in chocolate with the contrasts of dark, milk and white chocolate, they looked quite good. I also loved the boots with the milk chocolate straps and the edible gold painted buckles; they looked so real. The men's brogues were also hard to part with as those took a long time to make, as did the platform court shoes with the dark and white chocolate spotty bow, those I would have worn in real shoes too.
Now you've done shoes, what's next – a couture dress perhaps?
I have actually made a lot of chocolate dresses over the last 15 years, and handbags too. My favourite chocolate sculpture to make is something like a life size chocolate sofa, or picnic bench, or replicas of people's heads. But I also love making smaller sculptures too, so the Cadbury Joy Boutique campaign is perfect for me, it is really rewarding to see people being really excited when they see their favourite thing created in chocolate. I am currently making the first of the sculptures for the lucky winners that have won what brings them joy made out of chocolate. To enter visit www.cadbury.co.uk
Want to win one of her favourite shoes – one of the boots – just enter using rafflecoptor below and pray to the Cadbury Joyland inhabitants that you win!
GOOD LUCK EVERYONE!
T&C:
I'm giving this away but it was made by Prudence Staite for Cadbury.
To enter through the blog (required), leave a comment of *MORE THAN TEN WORDS IN LENGTH* talking about your favourite shoes and why they are your favourite. For example, my favourite shows were my black ballerina shoes because they were flat but comfortable, classic and stylish but so comfortable. I miss them so much!
You can gain additional entries by also following me on Twitter, liking my FB page, following me on Instagram or tweeting the special message: "I've entered to win a solid chocolate boot by @cadburyUK from @MostlyAboutChoc – and you can too at http://bit.ly/1qW9Tvy"
You'll be able to enter until Thursday at whatever point Rafflecoptor pulls the plug (I hope sometime around midnight but in what time zone I have no idea).
The rules:
1.The competition will finish on Saturday 12th July 2014 at Noon London time.
2.The selection of winner will be selected by Rafflecopter and verified by hand to ensure entry complies.
3.Only available to UK mainland addresses.
4.No cash alternative available.
5.I reserve the right to exclude entries that I feel are inappropriate (for example, change the tweet or do not leave the minimum 10 words) or are not in the spirit of the competition.
6.Your details won't be passed onto anyone else and will not be kept in any way.
7.I reserve the right to remove entries that I believe aren't human created or are an attempt to gain an unfair advantage such as automated entries.
a Rafflecopter giveaway