December 31, 2015
Brannland Ice Cider Review and Ice Cider Cheesecake Recipe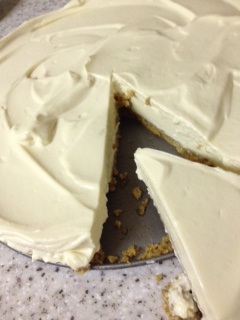 I spotted an announcement about Brannland ice cider and asked for a sample because as a Southern Canadian gal, I know Ice Cider and consider it uniquely Canadian. This company was not Canadian and I thought it interesting and unique.
The Brannland Ice Cider does have a slightly different flavour to the Canadian Ice Cider I'm used to. Where the Canadian version seems to have more of a tang which I often associate with Spartan apples and other similar tight flesh apples, this reminded me of different apples with a slightly less sweet tang and a bit more grainy fleshed apples. It was slightly fizzy which was a bit of a surprise but it worked for it. Not carbonated, just a light sparkle on the tongue. Less sharp and less sweet than a Canadian Ice Cider but really nice.
It's a delightful drink, best in small quantities and chilled. It would work best with cheese, as the somewhat sweet tang will play well off hard cheeses. It is absolutely perfect for after a meal and will clean the palate nicely before having some cheese or dessert. I'm not sure I'd have it with chocolate but cheese and other tangy desserts for sure – like this cheesecake recipe below 😉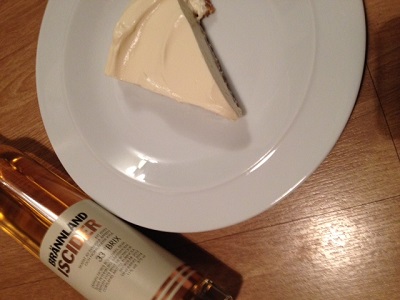 Ice Cider No Bake Cheesecake Recipe
Serves 12
Ingredients:
250g of hobnob biscuits
100g unsalted butter
300g of cream cheese
60g of icing sugar
1 tsp of vanilla
50ml Ice Cider
200ml of double cream
Directions:
Using a food processor, blitz together the biscuits and butter until it looks and feels like a wet sand or crush the biscuits and blend in the butter.
Press the mixture in a 25cm spingform pan until it covers the whole bottom and possibly a bit up the side and place in the fridge to cool and firm up a bit before adding the mix.
In a separate bowl, blend together the cream cheese, sugar, ice cider and vanilla.
In another bowl (yes, I know, we're up to 3 bowls now) lightly whip the cream until it thickens a bit. Don't put too much air in it, it has to be firm.
Mix together the boozy cream cheese mixture and the whipped double cream until they're completely combined.
Pour mixture in the springform pan and refrigerate it for at least 4 hours
After the cheesecake has set, serve it plain or with chopped apples on top or perhaps a biscuit on top.