December 29, 2015
Maple-Glazed Pork Tenderloin with Sour Berry Jus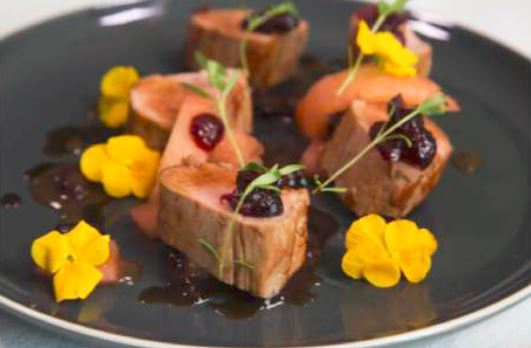 Add some pure maple syrup from Canada and Quebec to your dishes to give them more depth of flavour and a wonderful smoky/sweet note. This recipe has been created and developed by renowned Canadian food writer Philippe Mollé, who has worked with maple products for over 20 years. The calories in maple syrup are lower than in corn syrup and honey, averaging about 50 calories per tablespoon.
Serves 4
Ingredients
2 pork tenderloins, about 375g each, cleaned
60ml pure maple syrup from Canada
30ml light soy sauce
30ml vegetable oil
¼ tsp allspice, crushed
4 garlic cloves, minced
2 tomatoes, peeled and diced
175ml stock
30g cranberry or lingonberry purée
1 tsp tarragon, chopped
30g butter
Salt and pepper, to taste
Method
Add oil to a baking tray, season pork and cook. Brown on the hob 3 minutes each side.
Remove tenderloins and deglaze tray with stock.
Set aside.
Mix allspice, garlic and maple syrup together. Add soy sauce.
Preheat oven to 375oF or barbecue to medium high, and return tenderloins to baking tray for 13 to 15 minutes. Brush tenderloins every four minutes with the maple syrup and soy mixture until all used up. Remove tray and cover with foil.
Add diced tomato, tarragon and cranberry purée to stock to make a jus, and continue cooking for 3 minutes on low heat. Finish jus with butter and season.
Cut tenderloins into medallions, divide among plates, add jus.