February 9, 2016
Love Sweet Love – Chocolaty Sweet Treats and Wonderful Wines for Valentine's Day 2016
It's a day when it is absolutely not worth the risk to take a chance on something you aren't sure of. Whether it is chocolate, wine, sweets or something else, it's a minefield choosing just the right thing for Valentine's Day. I've tasted a lot of things over the years and so I've chosen some of my favourite suppliers for all budgets and tastes to help you make the perfect choices.
Under a Tenner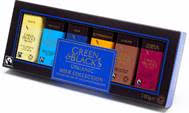 With suppliers like Guylian releasing a heart shaped box for Valentine's Day, what chocolate? If you go to the supermarket only (and I recommend a different approach this year please) and buy chocolates from there, why not get something different and pick up a mini tasting box from Green and Blacks for £6.99?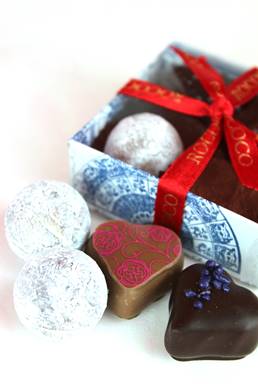 THE FLAVOUR OF LOVE from Rococo – With this box of four chocolates you get champagne, flowers and Chocolate – everything Valentines should be. I love that they use floral flavours as well as champers – 4 pack £6.50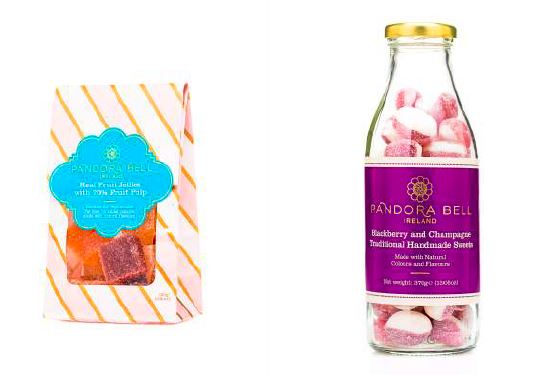 Pandora Bell produce a collection of beautifully crafted treats like Real Fruit Jellies (gluten free and vegetarian) (from £4.49), and traditional Handmade Sweets in Raspberry & Rose or Blackberry & Champagne at around £7.95. You can get these cuties from Harvey Nichols, Ocado, Amazon and it'll be a little something special.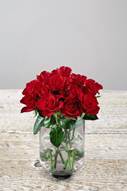 Oooooo! How about personalised Nutella? It's both personal *and* inexpensive! Why not make a fun treat for your Valentine at Selfridges at £4.99 or even pop in to Aldi for a 336g box of Thorntons for £4.49 and a dozen sweetheart roses for £3 and you'll still have change from a tenner. Splurge at Aldi for the £10 double stem orchid if you're feeling rich 😉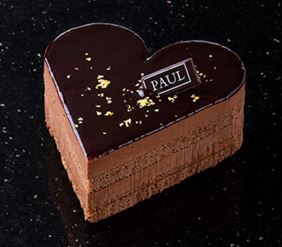 Paul Bakery have absolutely delicious patisserie for under a tenner and they are always fresh and delicious. Pick a couple up before the big day and have an early celebration 😉 from £4.25
Under £25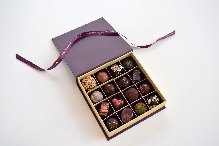 Paul A Young always has the most gorgeous chocolates and brings out special ones for Valentine's Day. He has a box of 9 chocolates which is the perfect balance between decadence and affordability but also has other delights which are stand-alone treats like his solid flavoured hearts and salted caramel filled dome but you can only pick his treats up in the shop. Why not also treat yourself to a brownie bite? No matter what you choose, it'll be awesome! Prices vary but generally under £2 per chocolate in larger boxes.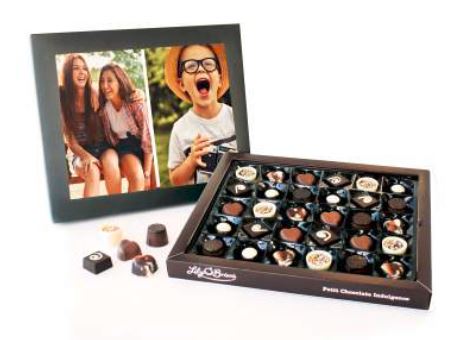 Lily O'Brien's has a wonderful Personalised Photo Box which you can only buy online at their website. It's such a cool idea and if you like Thorntons you'll like Lily O'Brien's chocolates so why not make a personalised gift? From £12.50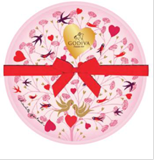 Godiva have a lovely 9 piece round box if you want to be a bit different. The website lists it at £20 but why not pop in store on Regent St and pick up chocolate covered strawberries as well?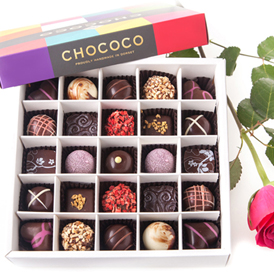 Chococo's Love Box Selections are filled with award winning chocolates and come in two sizes (Large £18.95 – 25 chocolates/ Medium £13.95 – 16 chocolates). They are available in shops or online *and* the most important part if that there are two of each flavour so people like me don't have to share 😉
Luxury Gifts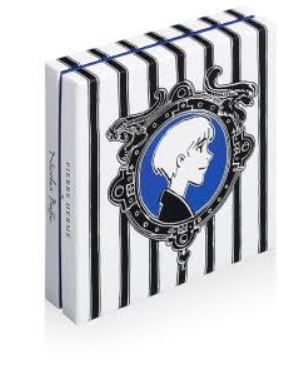 Pierre Herme macarons are the only worth buying (sorry Pierre Marcolini), but he has now launched a line of chocolates in a series of different boxes made in collaboration with the renowned French artist Nicolas Buffe. YUMMY! £32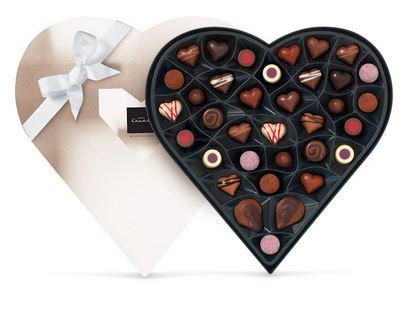 Straight from the Heart – I really enjoy Hotel Chocolat's Christmas offerings and the Straight from the Heart box looks fabulous – a 35 chocolate selection, including Pink Champagne Truffles, Praline Milk Oysters and Caramel Gianduja Hearts. £39
Chene Bleu has the most amazing wine called Heloise with floral notes on the nose along with gorgeous fruits. The wines are named after a couple (with Abelard) and it is romance in a bottle. It's a wine that pairs well with foods and I'd actually happily have it with chicken or pork or even possibly beef (but not game). I'd recommend the 2010 for the florals and fruit. £55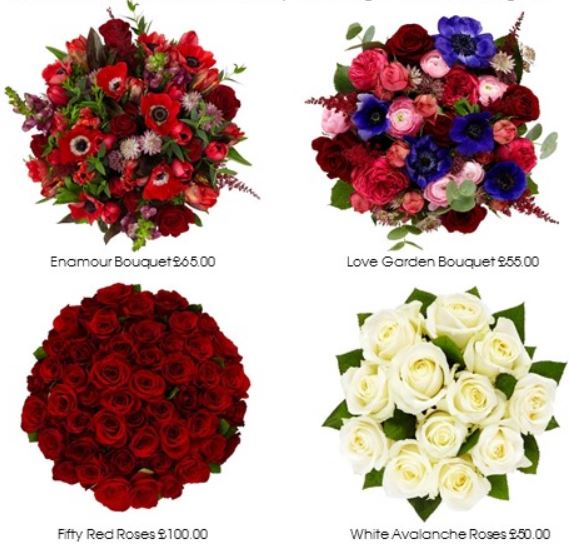 The language of flowers is important on Valentine's Day, and Selfridges Selection Flowers are fluent in it. Expertly created and arranged, these bouquets use seasonal, British blooms that smell incredible and hey – are LOCAL (unlike most roses). £50+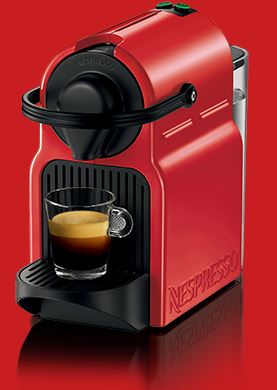 I own two Nespresso machines and while not a traditional gift why not consider one of the Inissia machine – the most affordable at £89. It comes in all sorts of colours including red!
Lots to pick from this Valentine's Day and something for every budget to make it as special a day as you wish.